Welcome to the new Continuous Review & Development Homepage.
Use the menu above to navigate around the resources you need to use CR&D successfully.  On this page you'll find the latest CR&D news headlines, how to navigate these CR&D pages, key dates and a brief overview if you're new to CR&D.
Finding what you need on these CR&D pages:
Using the menu above:
CoreHR – Links to log into CoreHR and also a link to take you to the CoreHR pages for additional guidance on the system.
All about CR&D and Best Practice – On the page you'll find basic and also detailed explanations of CR&D, the steps you need to take, and other useful 'best practice' advice.
Guides – The 'Guidance Documents' option will take you to the written guides on using CR&D in the CoreHR system.  For those who prefer listening and watching, the 'Video Guides' page is there to help.
FAQ's – If you have a question, the chances are someone's already asked us, so have a look for the answer here.  Or, you can submit a new question if you can't find the answer on these pages or from your manager/colleagues.
News Updates – Here you'll find the latest and older CR&D news posts.
Useful Links – These take you to non-CR&D pages that have information related to CR&D (Capability Framework, Learning Academy etc).
23/06/2021 – From this date you will be able to add your Objectives to the new CR&D cycle
01/03/2022 – All CR&D's must be finalised (signed off) by you and your manager before 1st March 2022.
If you're new to CR&D or just want to remind yourself of the basics, here is a short overview.  In short, CR&D is the name for what you might know as an appraisal…but it's much much more and it's a continuous process that you and your manager will use throughout the year.
CR&D focuses on 

continuous

 improvement and feedback through ongoing one-to-ones and communication between line manager and team members throughout the year.

It is built around the 

Capability Framework 

and a self-assessment so that we can understand what knowledge, skills and behaviours are needed for our roles and put in place any necessary  development by updating a development plan. 

You and your manager will be able to set objectives for yourself at any time of the year, long or short and update this at any time.

We use the Council's HR system 'CoreHR' to record and view all this information.

If you are not at the top of your salary grade, then CR&D is used to assess eligibility for salary increments.
To see how the CR&D Cycle works, click on the image below: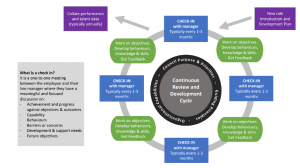 Want to know more?  Visit the 'All about CR&D and best practice' page.
Click here to return to the People Anytime Home page.
 Add a 'Like' and/or 'Rating' below to indicate how useful you found this page.
(Visited 12,260 times, 8 visits today)