/

/

/

Flexible Working – Homeworking
Homeworking
Home working means that the employee:
Spends a proportion of their time working from home, this could be up to 90% of working time

Requires access to corporate systems to perform their role

Is provided with the required ICT equipment and support
See the main flexible working page for a Flexible Working Request Form and the application process.
1. Definition
Home working is working from home either on a permanent contractually agreed basis as part of a regular work pattern or on an ad hoc basis.  Home working can also be applied on a temporary basis.  Home working is normally a voluntary arrangement.
Allowances will not be paid for any extra heating and lighting costs incurred.  This is on the basis that, for the most part, any such costs will be compensated by savings in travel costs.
2. Working Arrangements
Before home working is agreed, the line manager and the employee must decide exactly how the arrangement is going to operate. Particular areas to be covered include:
A needs analysis of equipment. Software, any furniture required

Proposed work pattern – i.e. number of days at home/in the office

How work will be set, delivered and collected

How work will be monitored

How communication will be dealt with – e.g. attendance at team briefings, team meetings

How supervision and support will be provided

Whether formal daily contact by either party is required

Any other concerns either party has regarding the working arrangement
This information should be recorded in the form of a written agreement.  For homeworking a Request for Approval is also required. 
3. Ad Hoc Home Working
Ad hoc home working is where agreement is given for the employee to work from home but it is not a formalized, permanent arrangement and is no-contractual.  As well as ad hoc home working, a temporary home working arrangement could also be put in place for in  certain circumstances, such as following a period of long-term sickness absence.
Where a need for temporary home working arises, a similar process as outlined should be followed, in considering the strength of the business case for temporary homeworking and whether the individual meets the appropriate eligibility criteria.
While an equipment needs analysis may still be required the temporary allocation of a Council laptop or stand-alone personal computer should help maximize benefit to the service yet minimize costs.
The guidance on Health and Safety and Insurance below applies to ad-hoc homeworking as for permanent home working.
4. Permanent Home Working
The Procedure for Approving Contractual Permanent Home Working
In order for home working to operate smoothly, there needs to be a clearly understood process for those involved to follow.  The purpose of this process would be to provide fairness, consistency and transparency in decision-making.  In each case, the following criteria must be met.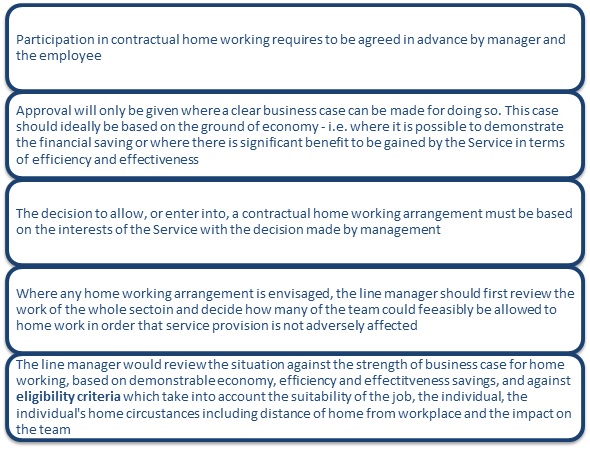 An overview of the full procedure  is available on the permanent homeworking page.
5. Points to Consider
If you are considering a request for home worked then as well as the general points to consider for flexible working, you will need to think about:
Home Circumstances
Is there a suitable workplace in the home?

What is the impact on family members?

Are suitable child care arrangements in place (if required)
Health and Safety
A risk assessment must be carried out before homeworking starts

Annual risk assessments will also be needed
6. 

Permission from Mortgage Lender/Landlord and Insurer
Employees may need the agreement of their mortgage lender or landlord to work from home. Employees must check the terms of the mortgage agreement/lease to ensure that their lender or landlord has no objections.
Although employees will be responsible for ensuring the security of Council property within their possession, the Council will be responsible for any necessary insurance of equipment supplied.  Working from home may affect the buildings and contents insurance for the employee's home.  Employees are advised to inform their insurance company of their homework base. The employee will be responsible for any increase in insurance premiums.
7. Confidentiality and Security
Employees often need to have access to information which is confidential, personal or commercially sensitive in order to do their jobs.  Employees and managers must be aware that whatever their work location and working arrangements, the need for security of that data is the same.  All employees must comply with the ICT Acceptable Use Guidelines at all times.  The rules on data protection and the provisions of the Data Protection Act apply just as if they were working in the normal office environment.  Further guidance on confidentiality and data security is available here.
8. Monitoring and Review
Each participating service should take responsibility for monitoring the effectiveness of the home working, mobile and satellite working arrangements within their sections and for reviewing the overall running of the scheme.  This could take place as part of performance appraisal of other regular review meetings.
Where it is felt that improvements or amendments could be made to the scheme overall, Human Resources should be advised in line with the principle of continuous improvement and in order to ensure that home working, mobile, satellite or ad hoc home working is operating to the benefit of the organisation as a whole. 
Relevant Documents and Links
To return to the main Flexible Working pages please click here.
Add a 'Like' and/or a 'Rating' below to indicate how useful you found this page
(Visited 441 times, 1 visits today)