What is the SSSC?
The SSSC was created under the Regulation of Care (Scotland) Act 2001 by the then Scottish Executive to protect people who use services, raise standards of practice and strengthen and support the professionalism of the workforce. The Act sets out principles, this includes that SSSC will:
promote high standards of conduct and practice among social service workers and their education and training

maintain a register of social workers, social services workers and social work students

remove people from the SSSC Register where their practice falls short of acceptable standards

create and promote the SSSC Codes of Practice

approve courses for people who wish to become social workers

provide grants and allowances for social service workers' training.
The SSSC has produced the SSSC Codes of Practice for Social Service Workers and Employers which set out the standards social service workers and their employers should meet.
SSSC Register
Social workers and social work students can only register if they hold or are studying for a suitable social work qualification.
The SSSC Register is function based, rather than qualification based. This means that someone applying for registration must be in a relevant job role in a service registered by the Care Inspectorate rather than hold a specific qualification.
The SSSC Register of Social Service Workers (Register) includes:
social work students

social workers

Care Inspectorate officers

workers in residential child care services

managers in adult day care services

workers in care home services for adults

workers in day care of children services

workers in school hostels, residential special schools and independent boarding schools

workers in housing support services

workers in care at home services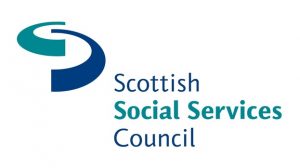 What are your Responsibilities as a Manager?
1. Registration
It is an offence to employ someone in a post who isn't registered to carry out that role.  
At the recruitment stage, the recruiting manager must ensure that the Job Profile accurately details the necessary professional body registration which is  an essential requirement for the post. As part of the interview process the panel must ensure that they see proof of registration (e.g. registration certificate). If this is not available then arrangements must be made for this to be seen before progressing an individual beyond preferred candidate status.
When appointing to a post where the successful candidate has 6 months to achieve registration it is the appointing manager's responsibility to ensure this has been done.
Countersignatories have access to download information from MySSSC about employees of the Council whose registration is due for renewal.  This should be carried out on a regular basis to monitor for lapsed registrations.                                                                                                                      
If an employee fails to register in the permitted timeframe or allows their registration to lapse they must be removed from duties requiring registration and may be subject to disciplinary action.  An example letter to use in these circumstances can be found below:
SSSC registration lapse letter
2. Referring Concerns about Fitness to Practice to SSSC
Employers have a duty to inform the SSSC about any concerns about fitness to practice and to inform the worker involved that a report has been made to the SSSC.    Typically referrals will relate to concerns about conduct, professional practice or the health of a worker.  This may apply to non-registered as well as registered workers
Information on what employers must tell the SSSC about, and when, is set out in the SSSC Employer Referral Guidance document together with the documentation to use to make the referral.
Before providing any information to SSSC about health matters consideration must be given to data protection issues.
3. Disclosure Scotland
The PVG Act places a duty on Aberdeen City Council as an employer to make a referral to Disclosure Scotland when:
(a)       an individual doing regulated work has done something to harm a child or protected adult
(b)       the impact is so serious that The Council has (or would) permanently remove the individual from regulated work. The first of these criteria is known as the referral ground.
What are your Responsibilities as an Employee?
1. Obtain and Maintain Registration
All eligible employees are responsible for completing and maintaining their professional registration, which includes payment of professional fees and meeting any conditions made as part of registration.  Current fee information can be found on the website. 
If you are not registered within the given time frame, or you allow your registration to lapse, your employer may be committing an offence if they employ you in this role. You may lose pay as you will not be able to work in a job where registration is a requirement for the post and a condition of employment and this may be dealt with under the Managing Discipline policy and procedure.
Information on registration requirements and time frames can be found below:
Registration Requirements and Timeframes
You should inform SSSC of any changes such as contact details, change of job or if you are subject to disciplinary action.
2. Post Registration Training And Learning (Prtl)
Everyone registered with the SSSC has to meet post registration training and learning (PRTL) requirements. Information on PRTL requirements can be found on the "who should apply to register" page of the SSSC website.
PRTL can be recorded online through MySSSC.
MySSSC
MySSSC is a secure site from the Scottish Social Services Council (SSSC).  MySSSC can be used by people who want to apply for registration with the SSSC, people already registered with the SSSC, employers and universities.
Some of the things MySSSC can do are listed below:
Applicants

Employees

Employers

Apply for registration

Pay fees

Renew your registration

Keep your details up to date

Record your PRTL

Apply for registration

View your employee details

Report changes to your employee details

Endorse applications for registration

Maintain countersignatory records
No special software is needed. MySSSC will work on any computer connected to the internet and with a suitable web browser and operating system.
Endorsment
The SSSC expect every organisation to nominate a lead countersignatory.  This is the main point of contact between the SSSC and the organisation on all matters connected with the registration of workers employed by that organisation.
The lead countersignatory can:
Endorse applications for registration.

Nominate additional countersignatories for the organisation.

Respond to requests for information from the SSSC.

Tell SSC about disciplinary matters which arise in relation to an applicant or registrant.

Share any information SSSC provides about important changes relating to registration with relevant members of staff.

Track the progress of applications for registration.
The Head of Children's Social Work is the lead countersignatory for the Council.  Information on this can be found below:
Further Information
Click here to return to the main People Management page
Add a 'Like' and/or a 'Rating' below to indicate how useful you found this page
(Visited 135 times, 1 visits today)