The Redeployment Procedure is found on this page.
Our employees are our most important asset.
We value the skills and knowledge you bring to Aberdeen City Council every day and we want you to be able to develop your career – right here at the council.​
Our new focus on internal recruitment will help you achieve this.
As vacancies and opportunities occur, we will look at more than just the qualifications, skills and experience required to do a job.  We are also interested in a person's potential and 'fit' to a role and where there are any gaps and how these could be developed on the job to meet the needs of the role.  It's the perfect opportunity for you to develop your career. This is where the re.cr.uit scheme comes in.
PLEASE NOTE THAT TO APPLY FOR ALL INTERNAL VACANCIES, WITH THE EXCEPTION OF TEACHING VACANCIES, YOU MUST COMPLETE AN INTERNAL APPLICATION FORM. 
THERE ARE STILL KEY ADVANTAGES OF SIGNING UP TO THE RE.CR.UIT DIGITAL TOOL.  THESE ARE EXPLAINED ON THIS PAGE.
The re.cr.uit scheme in a nutshell
OVERVIEW
All of our internal job vacancies will be advertised on the Opportunities Hub.  New vacancies will be added to the Opportunities Hub on a weekly basis on Tuesdays and Wednesdays.  
To apply for these vacancies, employees MUST complete an internal application form and submit this directly to the recruiting manager by the deadline mentioned on the advert. 
Managers will then shortlist based on the submitted application forms and arrange interviews and selection processes directly. 
*There are some new additions to the process though based on our learning of using our previous re.cr.uit scheme format.*
On Wednesdays, the Talent Team will run alignments to new vacancies through the re.cr.uit scheme's digital tool.  Anyone who has an alignment to a job will be emailed advising them that based on their profile they are a potential 'fit' to the role and are encouraged to view the job profile and advert and apply if they feel that they are interested and if the role could be for them. 
These employees will have the opportunity to note on their application form that they were contacted by the Talent Team via the re.cr.uit digital tool advising them of their potential 'fit' to a role and the recruiting manager can factor this into their decision-making process.  Therefore, if you join the scheme, not only will jobs come to you but you will also be able to evidence that you have a behavioural fit to the role.  More details about how the scheme works in practice is found further down on this page.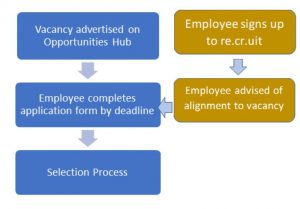 PRIORITY STATUS
When completing your internal application form, you will also be asked to note your priority status.  The reason we ask this is so that recruiting managers can consider applicants in the right priority order.  If you are not sure about your priority status, please contact talent@aberdeencity.gov.uk. However,  you may be able to determine this yourself using the definitions below:
Priority 1 – employees currently on redeployment.  This means they no longer have or are no longer able to undertake a substantive role in the organisation either through displacement or on medical grounds.  The reason for redeployment does not affect their priority status.  Recruiting managers will consider any aligned employees from this category first and must complete the selection processes for this category before they consider any aligned employees from priority category 2. 

 
Please click here for details of our redeployment procedure in addition to re.cr.uit. 
Priority 2 – employees who are at risk of being displaced due to service restructure or redesign.  To classify as priority 2, an employee must have been formally advised that it is proposed their role will be disestablished or that they are subject to a competitive  selection exercise in accordance with the Displacement Assessment Process where there is a reduction in posts or where there is a possibility of not being matched to a new or amalgamated role.  This reduction needs to be definite and therefore all business case approval and consultation processes should have been concluded beforehand.  This category also includes any modern apprentices within 3 months of the end date of their apprenticeship and who are applying for a role relevant to their apprenticeship. Recruiting managers will not consider any aligned employees from this category until they have confirmed that there are no suitable employees from priority category 1.  Recruiting managers must complete the selection processes for this category before they see any aligned employees from priority category 3. 

 
Priority 3 – employees who have signed up to re.cr.uit to be aligned to different roles in the organisation.  These include those looking for a career-change those seeking promoted posts and those seeking other opportunities.  Recruiting managers will not consider any aligned employees from this category until they have confirmed that there are no suitable employees from priority categories 1 and 2. 

 
Priority 4 – relief / casual workers and agency workers working with the council; employees of arm's length or partner organisations.  Recruiting managers will not consider any aligned priority 4 individuals until they have confirmed that there are no suitable employees from priority categories 1, 2 and 3.

 
JOINING THE DIGITAL TOOL
There are key advantages to joining the re.cr.uit digital tool.  To join, all you need to do is click on the button most relevant to you below this section of the page and complete a short form.  Your details are then sent to People and Organisational Development who will use your submission to sign you up to the scheme and populate certain information into the digital tool.  You will then be sent your login details. 
There are two main elements to the digital tool:
Your individual profile: This is essentially like completing an application form.  You will complete this on the digital tool itself and will populate all the information required. You will also add all of your skills based on a set list available.  To complete this, you will need to use our system guide and skills list found below. 
2. Your working preferences questionnaire / OPQ: The link to this is sent to you in the email with your login details.  This link will send you to the website of a company called SHL and you will complete a lengthy questionnaire asking for behaviours which are 'most like you' and 'second most like you' in certain situations.  Your responses to these will generate a profile.  This tool is gold standard and is used by many organisations worldwide. 
HOW IT WORKS
Once all of your details are in the digital tool and you have completed all elements, your details will be compared against all internal vacancies, with the exception of teaching vacancies.  If you have a 70% or more alignment to any vacancy, you will be contacted by email encouraging to apply for it and as discussed earlier on this page, you will be able to mention this on your application form as evidence of 'fit'. 
*Please note that you cannot apply for vacancies through the digital tool itself and will still need to complete and submit an internal application form.*
Please note that we will also be using the re.cr.uit digital tool for temporary movement / emergency response.  So if you are interested in those schemes, please also sign up for re.cr.uit. 
If you require additional support to complete your individual profile or working preferences questionnaire, the Talent Team will happily arrange a supervised and supported session with you to complete the individual profile and / or working preferences questionnaire. Please contact
talent@aberdeencity.gov.uk
to arrange this.   
We will endeavour to do our best to accommodate requests for additional support within the time frame for a particular opportunity wherever possible.  Employees interested in joining the re.cr.uit scheme are encouraged to sign up proactively to minimise risk of missing any deadlines. 
Recruiting Manager Information
If you are a recruiting manager, there are a few key things for you to know:
You will need to request to fill any vacancy via the Managing Vacancies page
While your vacancy is going through the approval process, you will be contacted by an Advisor within the Talent Team to discuss your request and to discuss available options to you
Once approved, your vacancy will be advertised on the Opportunities Hub and you will directly receive internal applications.  It is your responsibility to ensure any relevant teams and groups of staff are aware of your vacancy – especially if they are workers in the Council who less frequently use the intranet. 
You will be shortlisting applicants but this must be in priority group order and employee 'fit' should be seen as equally as important as technical knowledge and experience. 
You will be setting up and arranging interviews yourself.
It is important that you familiarise yourself with the guidance.  You also need to make sure that at least one person on your panel has completed the recruitment and selection training.  If this is not the case, please contact talent@aberdeencity.gov.uk 
WHY IS 'FIT' IMPORTANT?
As a manager, you will want the best person to fill your vacancy.  We also want to make sure that this happens for you.  But who is the best person for your job? 
Historically, we would have mainly focused on the person with the longest service or the person who has the most qualifications.  We are trying to shift our mindset away from this and to a more 'employee fit' model.  
There are numerous theories that surround 'employee fit' and essentially, what they all say is that where certain aspects all align between an individual and the job they do, the more chance you have of having success in the role.  Success could look like – better performance, higher engagement, higher productivity, less absence, better team relationships and better customer service. 
There are three main elements we have considered for 'employee fit' for the re.cr.uit scheme:
Skills, Knowledge and Experience:  these are the various specific things that an employee needs to know how to do in order to perform the job they are doing.  While there might be some very job-specific skills, we also ask managers to consider transferrable skills, knowledge and experience.  By focusing less on the specifics and more on the transferrable, we create an environment where internal employees can transition into other roles.  People and Organisational Development can happily explore with you how this can work with our support around training and developing new employees. 
Personality Fit:  Everyone has a working style and a way of behaving and approaching things in the workplace.  This is what makes us unique. Certain people will be more suited to certain occupations than others.  Our working preferences questionnaire / OPQ will assess this fit for you and our trained Advisors in the Talent Team will support you in mapping out what person you need for greatest success in your role.  This is about long-term behavioural fit. Just because someone has a certain qualification, it does not mean they are the best person for the job!
Environment:  People may have various needs and requirements when it comes to their job.  This can include hours, salary, location and working pattern.  Being transparent about these in an advert is essential and this will allow employees to make the right choices for themselves. 
I HAVE MY NEW START – WHAT NEXT?
Congratulations on your new employee!  Your employee will now have any required pre-employment checks and then the HR Service Centre will advise you when you can go ahead and start to agree a start date between you, the employee and their substantive line manager.  There are two main things to note now:
1. The employee will have a trial period of at least 4 weeks.  This trial period is intended to be supportive to both the employee and the new manager.  For the employee, a trial period will allow them to explore whether the role is for them, particularly in cases where it is a complete career change.  With the security of being able to return to a substantive role, employees can try out a new role to see if it is the correct career move without risk.  For managers, the trial allows the employee to have an initial 'settling in' period to the new role and gives assurance that the employee is a good fit for the role and for the team.  
2. You will need to develop an introduction and development plan for the new employee.  This plan will normally cover an employee's first 12 weeks in the new role.  The purpose of the Introduction and Development Plan is to hold a record of all the development areas identified to enable an employee to be able to fully undertake all aspects of the new role and progress against these development areas. 
All the information you need about the trial period and the introduction plan can be found in the recruitment and selection guidance.  A template plan is also provided below.  
Click here to view the re.cr.uit Privacy Notice.
Add  a 'Like' and/or 'Rating' below to indicate how useful you found this page.
(Visited 22,076 times, 1 visits today)