Health can be a difficult topic for men. We likely all know a man in our lives who would rather ignore a health issue, not like going to the GP or feel like they are a nuisance if they ask for help. When it comes to mental health, reaching out and asking for help can in some cases be the difference between life and death.
Women tend to be better at speaking to their peers when things aren't going well; whereas men feel they need to live up to the perceived image of masculinity and gender stereotype that 'guys don't cry'. Stigma associated to poor mental health, particularly in men, can mean asking for help or talking about mental health can be perceived as weakness. That means that men often don't talk about their problems and instead bottle them up.
Unfortunately, suicide is the leading cause of death in men under 50. There's still a gender divide when it comes to suicide, with men more than two-and-a-half times more likely than women to die by suicide. SAMH are funding a PhD at the University of Glasgow looking at risk factors in men to understand this divide.
Did you know that globally:
men die 6 years younger than women

3 out of every 4 suicides are men

95% of people who die at work are men
So what can we do about this:
Talk to your friends

Talk to your doctor

Move your body

Use it or Lose it!
Call 

Time for Talking

, Aberdeen City Councils Employee Assistance Service.  7 days a week, 365 days a year for a free counselling service. 
Call Breathing Space, a confidential out of office hours telephone line for people experiencing low mood, anxiety or depression. T: 0800 83 8587
Call Samaritans, A 24-hour free telephone helpline for people struggling to cope. T: 116 123
Call Cruse Bereavement Care Scotland, support for anyone affected by the death of someone close T: 0845 600 2227
Call SAMH, an information service on mental health. T: 0141 530 1000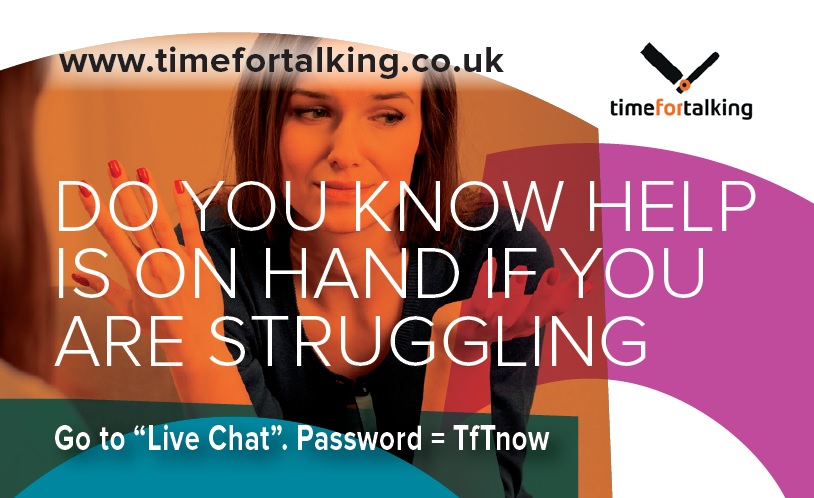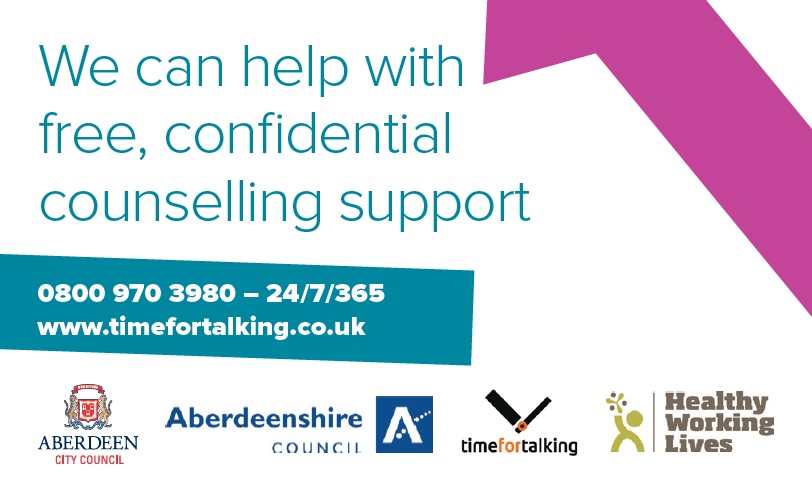 Case Study
Steven's mental health deteriorated after the loss of his wife, he felt like 'a jigsaw piece that didn't fit the puzzle.'
"I used to be a confident person who enjoyed life and was very career driven. I had a list of personal goals the length of a football field.
This came to a halt in December 2012 when I lost my wife to breast cancer. She was diagnosed while pregnant, and when our little boy was four months old she passed away.  
As time passed I tried to deal with this grief, but my mental health was getting slowly worse year by year.
I was leading quite a stressful life, with a very busy job in IT and juggling being a single parent to my son who was diagnosed on the Autism spectrum. 
As my mental health deteriorated I found it very hard to talk, I always parked this discussion to the side telling myself it was just a blip and I would be fine in the New Year. 
Things started to spiral out of control and I was really struggling with my day to day life. 
This is when I started to feel suicidal, feeling so worthless and weak. I wasn't coping at all and I kept convincing myself I was a bad Dad and that my son would be better off without me. 
I completely withdrew from friends and family and just wanted to be alone.
The suicidal thoughts continued to worsen, so I decided to speak to a private counsellor which was available through my work. 
Sitting in my car in the work car park one Friday I told him everything that was going on in my life, how I was feeling and that I could not stop feeling suicidal. He suggested I visit a doctor. This was a relief to hear, but I couldn't help feeling that this was all my fault. 
That night I went home and started drinking to drown out the pain, I just wanted to forget everything.  I woke up in hospital and was told by doctors that I had taken an overdose. That day I can remember feeling so guilty, how could I do that to my little boy? I hit rock bottom and I have never felt so low in all my life. That was when I started to slowly turn my life around. 
If I could best describe how I am feeling now, it's like I am a jigsaw piece that doesn't fit the puzzle. I know I have my family and friends to support me, but often I don't feel like I belong.
I am now in recovery after being diagnosed with post-traumatic stress disorder (PTSD), depression and anxiety and I am receiving support from my local mental health team.  My life is changing for the better and the good days are now starting to creep back in. 
Simple life style changes have really helped, like making sure I take breaks and lunches at work. I am lucky to have a really supportive employer. 
I am exercising more, going hill walks, and having respite days to relax and catch up on housework. I'm also doing things out my comfort zone like Buddhist meditation, Thai chi and yoga to relax my mind.  
I stupidly held onto my pain for such a long time because I was afraid and ashamed, my male pride stopped me asking for help. I am now trying to teach myself each day that this isn't my fault. I am ill and I am not a bad Dad, I am just trying my best."
more than 47,500 men diagnosed every year with prostate cancer in uk

129 diagnosed men die from prostate cancer every single day

every 45 mins one man dies

more than 11,500 men every year

1 in 8 men will be diagnosed with prostate cancer in their lifetime
Discounted

Memberships

….
Aberdeen Sports Village – 25% ACC Employee Discount (please show ID badge at reception)
Sport Aberdeen –

ACC Employee Discount Membership for £21 per month (please show ID badge at reception

)
(Visited 89 times, 1 visits today)