Please note we are currently reviewing our Smarter Working Guidance and associated documents.
Employees can still submit a flexible working request however there will be no permanent requests agreed in the immediate term. Trials of flexible working options may be undertaken in the shorter term.
If you have any queries in the meantime, please contact the Employee Relations and Wellbeing team.
Flexible Working Frameworks
This information will help you if:
You are an employee whose circumstances have changed and are interest in working flexibly

You are an employee who wishes to find out more about the options available

You are a manager with an employee who is interested in, and would like to apply for, the flexible working options

1

. Scope
Flexible working requests are welcomed from any council employee regardless of length of service.  These will be given careful consideration and implemented where operationally practicable.  For Teachers, there are separate arrangements and flexible working arrangements will be applied in line with SNCT and LNCT guidance.
It should be noted that employees with 26 weeks of continuous service with Aberdeen City Council have a statutory right to request flexible working.
2. Process for requesting flexible working
Please Note – The default scheme allows employees to work flexibly between 7.30am and 6.30pm.  Any local scheme developed in line with the framework provisions may vary these hours allowing an earliest start of 7am and a latest finish at 8pm.
All requests for flexible working will be given serious consideration.  When deciding whether or not to operate a form of flexible working, a minimum requirement is that there must be no detrimental impact on services to customers.
The manager may wish to give consideration to a number of points when flexible working is being considered.
Further guidance on managing flexible working requests is available here.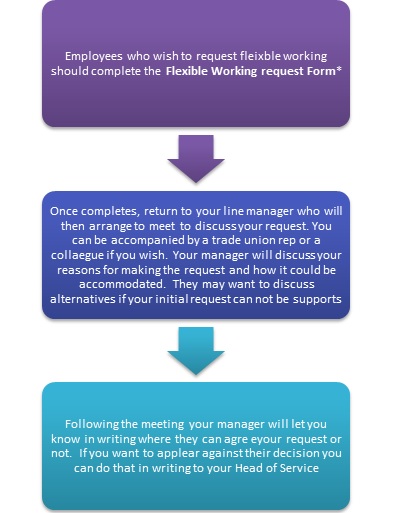 Click Here for a Flexible Working Request Form
*Please note there is no guarantee that  a flexible working request will be approved as this depends on the service requirements, although requests will be considered seriously. 
---
Information you need to include when completing the application
Please ensure the application includes:
Why you need or want to work flexibly

What flexible working arrangement you would like

When you would like the new arrangement to begin

How you think the change to your work can be accommodated and how it might affect your colleagues

Any ideas you might have to reduce any problems that might be caused

Details of your current work patterns

Any caring responsibility you have for dependents relevant to your application
Timescales
The manager and employee should meet to discuss the request within 21 days of the request form being submitted

If an adjournment to consider alternative suggestions is needed, this should not normally last longer than 14 days

The employee must be informed of the manager's decision in writing within 7 days of the meeting

The employee can appeal the decision by writing to their Chief Officer within 14 days of receiving their outcome letter
Appeals
You can appeal against the manager's decision if:
Your manager didn't know something important related to your request when they made their decision

You want to challenge information used by your manager
Appeals must be submitted in writing to your Chief Officer within 14 days of receiving the outcome letter.  Your letter should say which of the two grounds for appeal apply and why.  The Chief Officer (with a People and Organisation Adviser) will consider the appeal within a further 14 days.  You can be accompanied by a trade union representative or by a work colleague at the appeal meeting if you wish.  You will be advised in writing of the outcome of the appeal within 14 days of the appeal meeting.
Frequency of Requests
Normally you will have to wait for 12 months from the date of your last request, whether successful of not, before applying again.  However, if you can show that there has been a substantial change to your personal circumstances, and in particular to your caring responsibilities, the 12 month restriction will be lifted. 
Withdrawing a request
If you decide to withdraw your request before a decision has been made by your line manager, then you can submit a further request within the 12 month period if you wish. 
If you fail to attend either the initial meeting with your manager or a subsequent appeal meeting more than once without a reasonable explanation, then your application will be treated as withdrawn.  In that circumstance you cannot submit another request within the next 12 months. 
Extensions to timescales
Note – the timescales in this guidance will apply after the application window is closed.
There are two circumstances which may lead to the timescales for application process not being met.
Where the manager and employee agree that more time will be needed to complete a particular part of the procedure.

Where the manager is absent when the request is submitted.  If this is the case then the initial meeting to discuss the request should take place within 28 days of the manager's return to work.
Further guidance on managing flexible working requests is available here.
A flexible working arrangement needs to be based on trust.  When evidence can be produced that trust has been abused, the Council may decide to apply the disciplinary procedure and review or remove the flexible working solution.
---
3.Framework provisions
The framework provisions explain which parts of the default scheme can be modified to meet the needs of individual Services.
Any locally developed flexible working arrangement will need to be discussed at the service Union Management Committee and, once agreed, signed off by the relevant Chief Officer and HR/People and Organisation. 
An employee may be able to benefit from flexible working under one of more of the frameworks.  If that is the case the framework benefits may be limited.  For example employees working a Compressed Working arrangement cannot also take flexi-leave.
Annualised Hours   Term-time Working
Homeworking   Mobile & Satelite Working
Coreless Flexi-time   Time Off in Lieu (TOIL)
---
Additional Guidance, Forms and Links
You may also be interested in
Click here to return to the main People Management page
Add a 'Like' and/or a 'Rating' below to indicate how useful you found this page
(Visited 3,074 times, 1 visits today)