Covid-19
We have taken the decision to make changes to the way we progress some of our employee relations processes until further notice. These processes include:  
supporting attendance  
performance management 
discipline 
grievance 
bullying and harassment 
There are a number of factors that have necessitated this approach and these are explained in the Employee Relations Protocol.  We would ask you to read it carefully so that you understand your responsibility as managers in dealing with all current and future issues that may arise over the coming weeks.   
If you are a manager of employees actively involved in any of these management processes, or you have been appointed as an Investigating Officer, we would ask that you contact those individuals involved as soon as possible to advise of any changes and the time-frame involved (this is detailed in the protocol and will depend on the policy being followed and the stage it is currently at).   
To clarify, all cases will remain active, but we have amended some of our processes in order to comply with government advice around social distancing and to ensure the safety of all our employees during this difficult time.  
A grievance is a problem or concern raised with management by an employee about their work, working conditions or relationships.  The Council, has in place a procedure for employees to raise any problems or concerns without fear of criticism or reproach.  The procedure is in accordance with the ACAS (Advisory, Conciliation and Arbitration Service) Statutory Code of Practice covering grievance procedures.
The Council recognises that it is good practice to deal with such issues impartially, quickly (within agreed timescales) and fairly using the same process.  The matter will be handled in an open and constructive manner by a more senior manager in the service than the parties involved.

The Managing Grievances pages will guide employees and Managers through the process of raising and dealing with grievances.
Click here to view the Managing Grievance Policy and Procedure 

and the

Managing Grievance Guidance for Managers
Overview
All grievances raised should be handled quickly, fairly, and confidentially to promote good working relations going forward.
Many grievances can be resolved informally before they become more serious and impact negatively upon working relationships.  
If you feel that the grievance remains unresolved then it would proceed to the formal stage. 

It is at this stage that an employee can be supported by a work colleague or trade union representative.
Normal working arrangements will apply until all stages of the grievance process is concluded.
Process Overview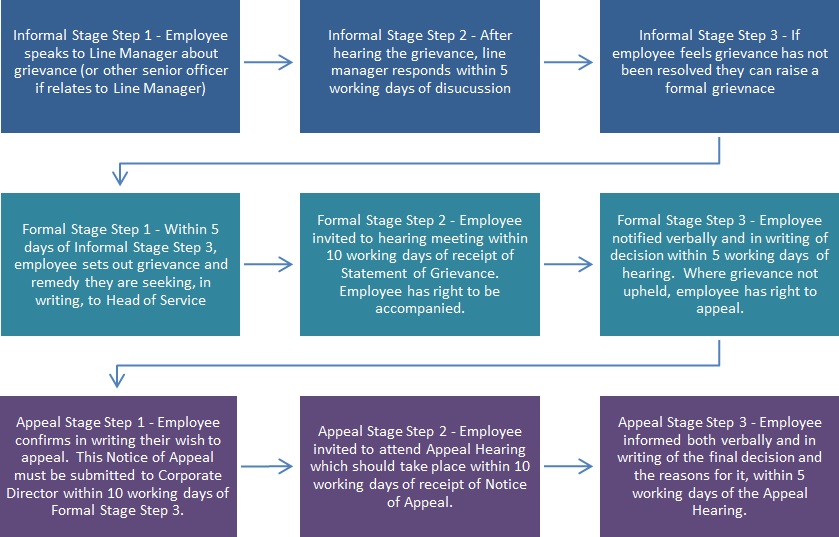 Who can raise a grievance?
Any current employee of the Council, regardless of status, can raise a concern through this process. 
Collective grievances, raised by a group of employees, which form the basis of a dispute shall be brought through The Dispute Resolution Procedure.  See the Framework Agreement for Industrial Relations (FAIR) for further details on this procedure.
Key Steps and Information
Click on the buttons below to take you through the key steps in managing grievances and further key information.
Informal Stage      Formal Stage    Appeals Process
Record Keeping     Grievance FAQ's
Nature of the Grievance
Grievances about fellow employees
There may be occasions when an employee may be the cause of grievances among his/her colleagues. This could perhaps be on grounds of personal hygiene, attitude, or capability for the job.
This will need to be dealt with carefully, and sensitively, and will usually start with the relevant line manager talking privately to the employee concerned about the concerns expressed by colleagues.
Such counselling will hopefully resolve the grievance to the satisfaction of the colleagues who expressed concern on the basis that appropriate action has been taken to address the issue.  Guidance on how to carry out counselling is contained within the management guidelines pertaining to Managing Discipline and equally applies in these circumstances.
However, if matters do not improve, then you will need to consider whether the grievance should be dealt with under the disciplinary procedure, in which case a disciplinary investigation would need to be initiated. Disciplinary action may eventually be required to address the problem, although that is strictly a matter for management through following the proper procedure.
Other Grievances
There may from time to time be other concerns that arise from junior employees against senior employees that do not fit the criteria to be a qualifying disclosure under the Council's Whistleblowing policy but are of a whistleblowing nature.  In these limited circumstances the junior employee can, if they wish, report their concern in writing to the Director of Corporate Governance (or other appropriate chief officer) who will arrange for the matter to be investigated and for a response to be given to the complainant.
You can not raise a Grievance about the following: 
Job grading

Salary assigned to a job

Disciplinary action being taken

Performance management support

Alleged Bullying & Harassment or Whistleblowing

Pensions

Income Tax or National Insurance

Outcome sought is inherently unfair
You might also be interested in
Mediation Information for Employees
Counselling Service – Time for Talking
Bullying and Harassment
Managing Discipline
ACAS (Advisory, Conciliation and Arbitration Service)
Click
here
to return to the Employee Relations page.
Add a like and/or a rating below to indicate how useful you found this page.
(Visited 1,066 times, 1 visits today)