/

/

/

/

Flexible Working – Permanent...
Permanent Home Working
See the main Flexible Working page for a Flexible Working Request Form and the application process.
1. Starting Home Working
Once a contractual home working arrangement has been agreed in principle, the line manager and the employee should discuss and agree exactly how the arrangement is going to operate.  Particular areas to be covered should include:
The arrangements for security/confidentiality of data, information and documentation, including adherence to the ICT Acceptable Use Policy and the Data Protection policy and related procedures.

A needs analysis of equipment, software, furniture required

Proposed work pattern – i.e. number of days at home/in the office

How work will be set

How work will be delivered and collected

How work will be monitored

How formal/informal communication will be dealt with – e.g. attendance at team briefings, team meetings etc

How supervision and support will be provided

Whether formal daily contact by either party is required

Any other concerns/issues either party has regarding the working arrangement
As part of this discussion the Manager and employee can agree a trial period for the arrangements where appropriate. The above information should be recorded in the form of a written agreement for review and monitoring purposes.  If any of the arrangements will impact on others, for example other members of the team, their views should also be taken into account.
Once the needs analysis is complete, ICT should be contacted to arrange dates for installation of equipment and also to provide advice on options available to suit any special requirements an employee might have.
HR should be contacted so that a variation in contract, or a new statement of particulars, can be drawn up confirming the individual's status as a homeworker.  This should include a clause allowing either party to vary the agreed working pattern or to terminate the arrangement with a reasonable period of notice.  An exception to this would be where the post is specifically designated a Homework post.
The employee should complete the DSE e-learning module in OIL prior to starting to work from home.  In conjunction with this a home work station risk assessment  should be completed by the employee and provided along with photographs of the workstation to their line manager for a table top review by a DSE assessor.  If there are any aspects of the assessment that require further clarification, then a home visit by a DSE Assessor will be required.  Further support and advice concerning this process can be provided by the Health and Safety Directorate contact.
A risk assessment should be carried out by the employee's manager in relation to security and confidentiality of data, information and documentation, with the Homeworker informed that they must not in any circumstances transfer Council data or information to another PC, lap top or to the Internet. Also, they should be informed that they must not upload software or other programs to a personal computer or lap top without the prior authorisation of ICT. In addition, the Homeworker should  be informed to have regard at all times to the type of work they are undertaking and where in their home they are working, to ensure the security and confidentiality of Council information and data and should also have a facility to lock away any confidential manual information. It should also be stated that security and confidentiality must be observed when undertaking any travelling to and from workplaces or elsewhere, to ensure that Council data, information and manual files are kept secure at all times.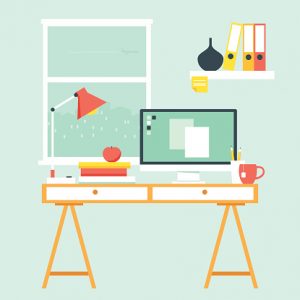 As well as the above, where it is agreed that the employee requires to have access to information held on the Council servers or within the email system and  a Council encrypted laptop must be used.
---
2. Operating the Scheme
Working time and Time Recording
Any overtime or other allowances will be required to be pre-agreed with the manager of the service, as with normal working.

Homeworkers will be required to complete working time records, as with normal working.




Managers and other team members should be made aware of the working pattern of a homeworking colleague so they are aware of the days and times they are working at home. It should be the exception rather than the rule for those days to be subsequently altered.

Where the nature of a homeworker's job is such that they need to be contactable during office hours, the hours worked at home should comply with a 7:30 am to 6:30 pm pattern, as with normal working.

Where the nature of the job does not require this, it may be possible to reach local agreements whereby the individual could work outwith that pattern.

It should be recognised, however, that such an arrangement would be at the employee's request, not the manager's and as such they would not be eligible for any additional allowances.

It would still be necessary for the homeworker to advise their manager and other team members of their working pattern in advance. Any agreement to allow such an arrangement must be made in line with the needs of the service with the final decision resting with management.

As the Council is responsible for the health and safety of its employees while at work, it is recommended that no individual should continue to work at home in circumstances where they would not consider themselves fit to travel into the workplace.

Suitable arrangements for care of dependants must be in place while an individual is homeworking i.e. the homeworker cannot act as a carer at the same time as they are home working.
Equipment
Contractual Homeworkers will be provided with appropriate equipment identified through the needs assessment.

All equipment issued remains the property of the Council and will require to be returned if the homeworking arrangement terminates.

All electrical equipment to be used by the homeworker in the course of their job should be inspected by a competent person for electrical safety. Accurate records should be kept, including an inventory of all equipment, cables and leads.  All electrical items should be given a serial number.  A suitable label should be attached to each item of equipment tested.  The label must have an identification number and indicate when the test was undertaken and, ideally, when the next test is due.

All office equipment and furniture issued should be ergonomically suitable for the individual and of a comparable standard to that used in the work place. Advice on this will be given by the officer carrying out the risk assessment.

Where there is a requirement for any non-routine repair, maintenance, or advice the ICT Help Desk should be contacted and the homeworker's line manager advised where this may have temporary implications for the homeworker's ability to carry out work from home.

The homeworker will be required to agree that any equipment issued by the Council for the purpose of homeworking be used solely by the employee, solely for the work of the Council, and will be returned in the event that the employee's contract terminates.
Health and Safety
Most of the regulations under the Health and Safety at Work Act apply to employees homeworking as well as to those working at Aberdeen City Council premises.
Where home working is agreed, the Health and Safety Risk Assessment and home workstation checklist can be reviewed on an annual basis. The employee will be responsible for notifying their line manager of any changes at home that may affect the relevance of the risk assessment.

In order to ensure personal safety, all meetings with clients etc should be conducted in the workplace or at a location other than the homeworker's home. Any visits by the homeworker's supervisor, or representatives of any of the Council's directorates visiting to carry out risk assessments or maintenance tasks, should be agreed with the homeworker in advance.

Where the homeworker feels their personal safety may be at risk through the sensitive nature of a piece of work, it is recommended that they discuss this with their line manager and be given the option of completing the piece of work in the office.
---
3. Other Issues
Insurance
Employees working at home with the knowledge and consent of their manager are covered by the Council's insurance arrangements for employers' liability and personal accident as if they were in their normal place of work. It is therefore vital that a health and safety risk assessment is arranged prior to the commencement of homeworking and that the employee signs an agreement to the effect that they will keep the remote location and equipment in that same state.

All employees are requested to inform their home insurers that they will be carrying out some of their work from home. Letter to Lender Example Wording can be used by the employee when they contact their insurers.
Cost Issues
Each service will need to make provision in their budget to cover the cost of setting up and running any agreed homeworking arrangements.

Travel allowance from home to the normal place of work will not be paid.

Although the Council will not pay for any extra heating and lighting costs incurred by the Homeworker, for the most part, any such costs may be at least partially if not wholly offset by savings in travel costs and that, on the occasions when this does not happen, it has to be recognised that homeworking is on a voluntary not mandatory basis and so should not be entered into by anyone who feels they would be disadvantaged by participating in the scheme.
Relevant Documents and Links
To return to the main Flexible Working page please click here.
Add a 'Like' and/or a 'Rating' below to indicate how useful you found this page
(Visited 189 times, 1 visits today)