EMPLOYEE INITIATED EARLY RELEASE
Where an employee wishes to explore the possibility of leaving the Council's employment under this policy they must initially discuss their interest in early release with their Head Teacher. Only where the provisions of the "Cost Efficiency Test" are met will cases be recommended for support.
In cases of employee initiated release, the cost efficiency test will be applied to determine whether or not the actuarial reduction will be met by the employer.
Limit on Number of Expressions of Interest by an Employee
An employee may express an interest in early release under this scheme only once in any rolling 12 month period. In cases where the employee has expressed an interest and the employer subsequently invites applications, the employee will be eligible to submit another expression of interest, even though the twelve month period has not expired.
Application Process for "Employee Initiated" Early Release
The process for employees applying to be considered under this section is detailed below. It recognises that, at times, it may be of mutual benefit for an employee to leave the employment of the Council but this must be in accordance with the provisions detailed earlier in this policy. The Council is under no obligation to grant any application for voluntary severance/early retirement but it is recognised that an employee may in certain circumstances retire early and access pension benefits as determined within the STSS.
Process for Expressing Interest Step by Step Guide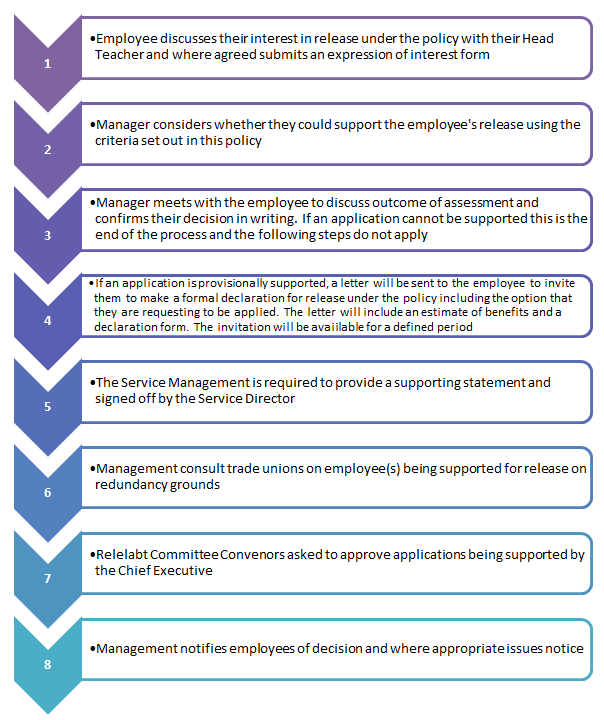 Click here to return to the main VS/ER Teachers page
Add a 'Like' and/or a 'Rating' below to indicate how useful you found this page
(Visited 9 times, 1 visits today)