Update (May 2020) – Parental Bereavement Leave:
  Please click HERE to view guidance and templates on Parental Bereavement Leave
Leave of Absence
The leave of absence indicates timescales and circumstances when paid/unpaid leave may be granted.
Head Teachers are empowered to grant paid leave of absence for periods of two days or less. In such circumstances cover will be provided from within the school where appropriate.
When a Head Teacher has doubts relating to the payment of salary the leave of application form should be submitted in advance to the appropriate Education Officer.  The submission of this form is not required if the Head Teacher is satisfied that leave with pay can be granted under current policy.
Decisions relating to the interpretation of this agreement will be taken by Education Officers. 
Staff should note that an accelerated appeals system has been established to ensure that appeals against decisions by Education Officers for leave with or without pay, may be timeously heard. Such appeals will only be considered where they relate to those clauses in the agreement where there is reference to "normally", "reasonably" or there is specific reference to the Appeals Committee.
The Committee will be composed of Council Members of the Grievance Appeals Sub-Committee to whom written appeals will be submitted.  Appeals will normally be processed by the Joint Secretaries of the Union Management Forum; this does not preclude staff submitting appeals directly to the management side secretary of the UMF.
Leave of absence, without pay, will be granted to temporary staff on account of family illness.  Temporary staff on long-term contracts will also be granted, in cases of family bereavement, the same leave of absence as permanent staff.  The policy for granting leave of absence to permanent staff in certain circumstances is as follows: –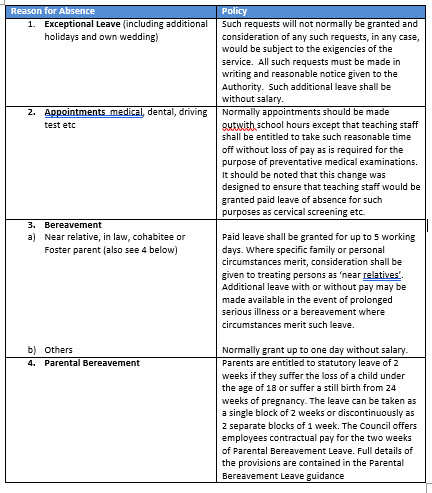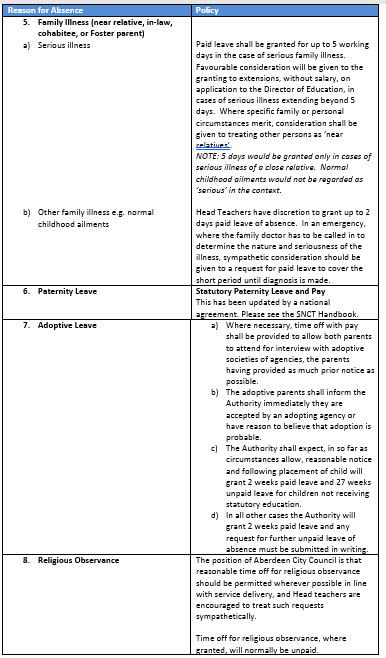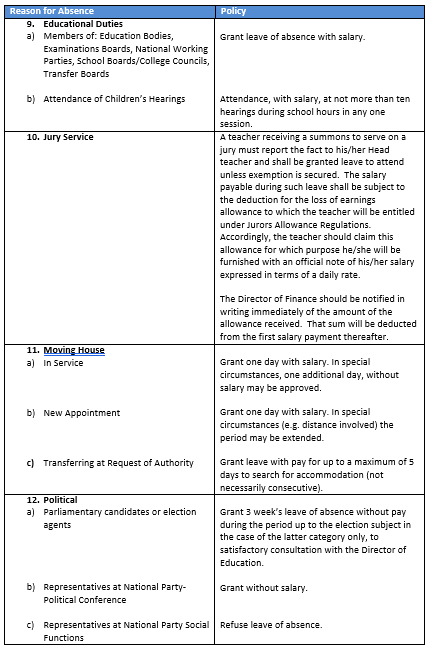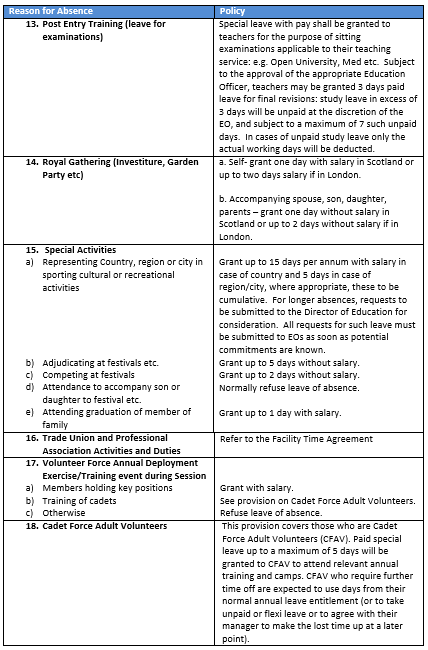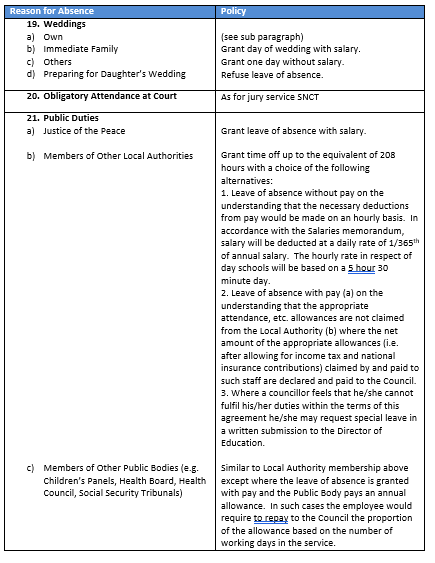 Relevant Documents
Click here to return to the main Teaching Staff page
Add a 'Like' and/or a 'Rating' below to indicate how useful you found this page
(Visited 282 times, 1 visits today)