1. Job Evaluation and Equal Pay
As an organisation, we are committed to the principle of equal pay for all our employees, we aim to eliminate any gender bias in our pay systems and to provide fair and transparent pay systems.
In this section, you will find information about the Council's equal pay policy, the job evaluation scheme and how job evaluation works for new jobs and reviews of existing jobs.
Some reasons why this page might be useful to you:
  •   You want to learn more about equal pay at the Council
  •   You want to know more about the Council's job evaluation scheme
  •   You are a manager designing a new job
  •   You are an employee who wants to request a review of your job evaluation 
2. Templates / Requesting a Job Evaluation:
3. Other Related Documents:
The duty to provide equal pay, free from gender bias, dates back to the Equal Pay Act 1970 (now mostly superseded by the Equality Act 2010).  In 1999, representatives from all Scottish Local Authorities and the Trade Unions reached a national agreement on Single Status. The guiding principles of the Single Status Agreement are:
High quality services delivered by a well trained, motivated workforce with security of employment. To this end Councils are encouraged to provide training and development opportunities for their employees;

Equal opportunity in employment, as equality is a core principle which underpins service delivery and employment relations.  This includes removal of all discrimination and promotion of positive action;

A flexible approach to providing services to communities while meeting the needs of both employees and employers.
As part of Single Status and to ensure that we have a pay structure free from gender bias, the Council implemented a job evaluation scheme in 2009 which provides for this and ensures that the Council's position is legally defensible.
Please see the Council's Equal Pay Policy for more information.
5. Job Evaluation Scheme:
The Council applies the Scottish Joint Council for Local Government Employees job evaluation scheme.  This applies to employees on Equal Pay & Modernisation (EP&M) terms and conditions and does not apply to Craftworkers, Teachers and others on SNCT terms and conditions or Chief Officials.
Information on the job evaluation scheme can be found here:
                                     

Job Evaluation for New Jobs/Review of Existing Jobs
The process for job evaluation of new jobs or for requesting a review of an existing job can be found below.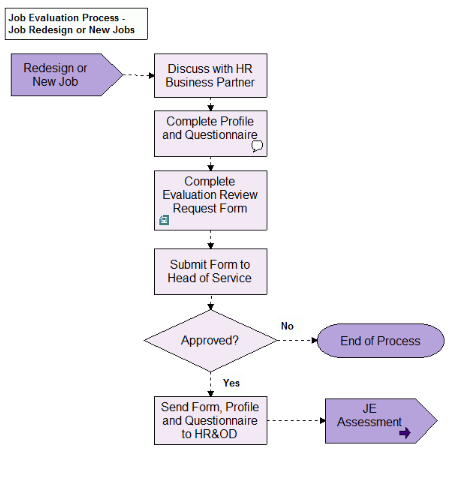 For a new job, a job profile will need to be developed.  See section 2 (above) for the Job Profile Template.
6. You might also be interested in:
Click here to return to the main Organisation Design page
Add a 'Like' and/or a 'Rating' below to indicate how useful you found this page
(Visited 1,633 times, 12 visits today)