EMPLOYER INITIATED EARLY RELEASE
The employer can initiate an employee's early release under this scheme in the following situations. It should be noted that in cases of employer initiated early release, any access to pension benefits will be to Premature Retirement, with the actuarial reduction being met by the employer.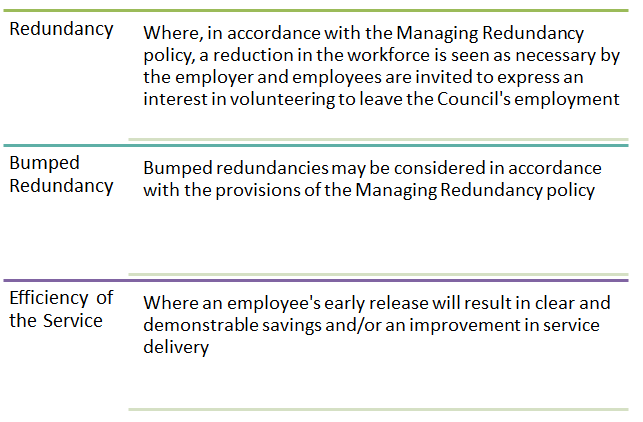 ---
Application Process for "Employer Initiated" Early Release
The employer may initiate application(s) for early release where the following situations arise:
On Redundancy Grounds – where a reduction in the workforce is seen as necessary by the employer and employees are invited to express an interest in volunteering to leave the Council's employment

On grounds of Efficiency of the Service – where there is a clear and demonstrable financial benefit (savings) and service efficiency to the Council by approving an individual request.
Other situations may arise from time to time and it will be for the Head of Human Resources to determine the process after due consultation with the trade unions.
The process for employees wishing to be considered under this section is detailed below. 
---
Invitation to Volunteer
If it should become necessary for the Council to consider releasing employees prematurely under this policy, management will notify the directly affected employees (i.e. employees within the work location, section or service directly affected) and invite them to make an application under this policy within a prescribed time limit.
At the discretion of management, employees not directly affected may also be invited to apply for release under this policy (under a "bumped redundancy" arrangement) where this will create redeployment opportunities for employees at risk of redundancy.
Invitation Process Step by Step Guide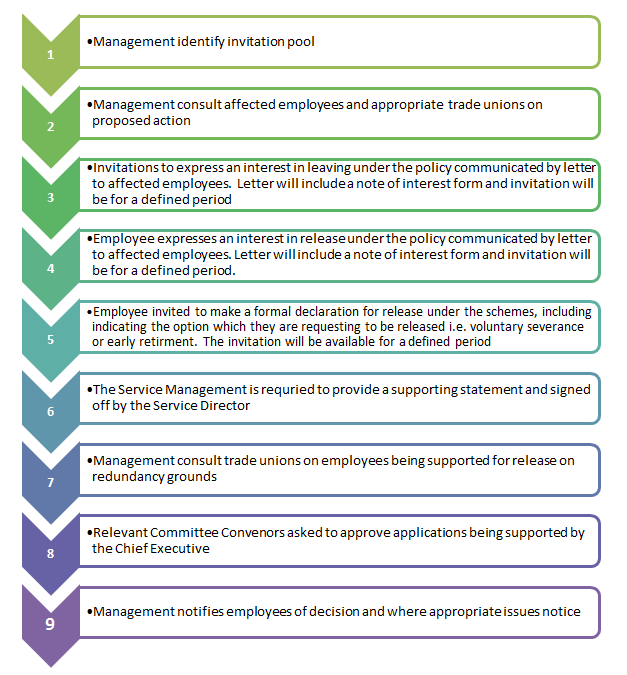 Cost Efficiency Test
The total cost of releasing an employee on a voluntary basis i.e. mandatory compensation, voluntary redundancy payment / voluntary severance payment will require to be recouped and financial benefit to the Council must be evidenced at the end of five years following the last day of employment of the employee concerned. The savings will be assessed by calculating the total compensation costs that are associated with the application and offsetting these against the reduction in employment costs over the five year period.
The calculations associated with releasing an employee on a voluntary basis must be undertaken in every case and verified with a representative of the City Chamberlain. There may be exceptional circumstances where cases involve modest costs that cannot be recouped over the required 5 year period. In such exceptional circumstances the Cost Efficiency Test may be set aside but this must have the support of the Service Director and Director for Corporate Governance and then agreed by the relevant Convenors.
Click here to return to the main VS/ER Teachers page
Add a 'Like' and/or a 'Rating' below to indicate how useful you found this page
(Visited 17 times, 1 visits today)