A grievance hearing will be arranged following receipt of the statement of grievance from the employee and should take place as quickly as possible, and no later than 10 working days, from receipt of the statement of grievance.
This page is relevant for the person arranging and chairing the Grievance Hearing.  This will be the Head of Service or an appropriate Senior Officer nominated by the Head of Service.  To demonstrate fairness, objectivity and impartiality in the process, the chair must have had no prior involvement in the case.
Arranging the Grievance Hearing
hold the meeting in as private location as possible and ensure that there will be no interruptions (for example, mobile phones needs to be switched off). It is important that the employee feels that their grievance is being treated confidentially 

write to the employee giving adequate notice of when the hearing will take place (

remember the 10 day timescale).  

include in the letter an explanation of how the hearing will be conducted and confirmation of the employee's right to be accompanied, and by whom

arrange a separate room in case adjournments are necessary and arrange for water to be made available in both rooms

I

f necessary, make appropriate arrangements to cater for any disability the employee or their companion may have.

If English is not the employee's first language, you may also need to provide translation facilities.
In addition, the chair of the hearing may arrange to be accompanied by an HR Adviser where they believe that it will be helpful to receive procedural advice and guidance and help them arrive at a fair and reasonable decision. The chair may also find it useful to have someone else present to take notes.
Conducting the Grievance Hearing
The Grievance Hearing should be conducted in a calm and impartial manner providing an opportunity for open discussion.  Be as fair to the employee as possible in an effort to find a satisfactory resolution.  You should be prepared for any reasonable "letting off steam" from the employee as this may be stressful for them and the grievance may have been held for some time.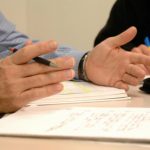 The following process should help you conduct a fair and reasonable hearing.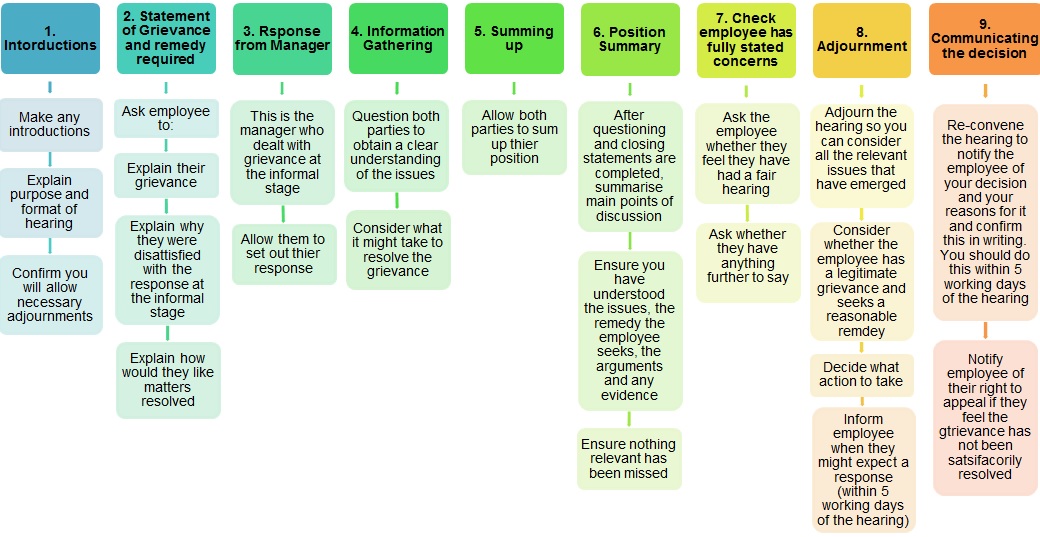 Arriving at your decision
Before making a decision, you may need to seek advice on how best to take matters forward, particularly if you are not sure how to deal with the grievance. You can do this before the grievance hearing and may involve:
exploring possible opportunities to resolve the grievance, and checking the legitimacy of potential solutions, with other managers and People and Organisation

checking whether similar grievances have been raised before and if so, how they were resolved (allows for equity and consistency).  Management or People and Organisation may be able to assist with this.

checking whether the employee's proposed remedy is reasonably achievable and indeed, whether it may render the Council vulnerable to other grievances from employees who may potentially be disadvantaged were the grievance to be upheld 
 

Template Letters
Template Letter to Invite Employee to Grievance Hearing
Template Letter to Confirm Decision Reached After Grievance Hearing
Click here to return to the main Managing Grievances page. 
Add a like and/or a rating below to indicate how useful you found this page. 
(Visited 62 times, 1 visits today)