Temporary Movement of Staff
As a local authority, 

our

 key

 purpose is to protect the people and place of Aberdeen City from harm – that means our priority must be maintaining critical services for our citizens and communities during the Coronavirus outbreak.
These critical services now face the very real challenge of staff shortages and an increase in demand.  
To do this we have put in place a new  Temporary Movement of Staff Protocol which sets out a framework to be used in the temporary movement of employees to cover critical and essential services or additional services required as part of our multi-agency response.
There are a number of critical and essential services across the organisation and our partners, for which it is vital that continuity is maintained to support the city of Aberdeen and its citizens.
We fully recognise that we cannot do this without the full support and engagement of our employees and are looking to all of you to help where you can. 
Areas we are currently seeking employees for:
If you are willing and able to support any of the below activity, please complete the temporary movement of staff sign up form below and get in touch with talent@aberdeencity.gov.uk with your name, availability and confirmation that you have agreement from your line manager to undertake temporary alternative duties (even on a part basis). 
We are looking to employees to be flexible and adaptable in the way they deliver their roles and to consider moving to an alternative roles and / or tasks as they may be required.   
To enable this, we are asking employees to complete a questionnaire which will outline some key information. 
This questionnaire can be found on the button below. If you have any difficulty accessing the form please contact talent@aberdeencity.gov.uk. 
Further Employee Information
Our first approach as an employer will be, wherever possible, to align employees to the areas of work they have indicated a preference for. 
There will be no reduction in pay associated with undertaking alternative duties. Employees will continue to receive, as a minimum, their usual salary.  Should an employee undertake additional hours or higher-graded duties, they will be remunerated appropriately.  
A team in People and Organisation has been set up who will support you with finding suitable people to cover critical tasks and duties in your team.  To be able to do this quickly and efficiently, the team will need some essential information from you.
The information you provide will also ensure that employees are provided with the correct documentation and are paid correctly.
If you have a critical need which requires cover, please contact talent@aberdeencity.gov.uk 
Further Service Manager Information
You must:
Undertake a risk assessment of the role or task required

 and be clear on the 

duties that

individuals moving to the service will be undertaking.  Information about this can be found

here

.
Please download and save a copy of the document before completing.
C

omplete

 an

 induction and/or relevant training

 or briefings

 

M

aintain records of who is completing the work 

on a daily basis.  

Maintain contact with People and Organisation for the set-up, tracking and processing of staff movement. 

Should there be any changes to hours, working pattern, end dates etc., these must be communicated at the earliest possible opportunity to talent@aberdeencity.gov.uk 
Advise talent@aberdeencity.gov.uk should any employee who is covering duties is sick or has had to self-isolate as a result of Covid-19

H

ave suitable supervision in place 

 

B

e clear that the

 normal / substantive 

line manager retains well-being responsibility

 for the employee undertaking temporary duties

 con
Consideration should be given in these circumstances to the tasks required as being 'like work'. This would mean that the required tasks proposed are broadly similar to an employee's current role in relation to required skills, circumstances, grade, hours and location. Any difference in the work which is not of practical importance shall not be considered.  
This process will be subject to agreement with employees, where it represents a significant difference to their existing role, and will take into account: 
personal 

and home 

circumstances

;

 

any underlying health 

condition

s

;

 

the nature of the work to be 

undertaken;

 

knowledge, skills, experience and 

qualifications;

 

hours of work

. W

e 

will look for

 maximum flexibility in hours worked

;

 

many

 

of our essential services will require a commitment beyond our usual core 

hours;

 

the 

likely 

duration of the 

move;

 

 

COVID-19 risk assessment and management
Employees and line managers also have a responsibility to ensure their information is up to date to support with the above.  CoreHR must be updated to reflect if employees are doing temporary alternative duties. 
If an employee is undertaking temporary work to support critical services, the employee or their existing line manager should update CoreHR each day, to reflect this.  To record temporary duties on CoreHR, you only need to record the days you would normally work.  There is no need to change your normal work pattern on CoreHR.  Should you work a day that would be your day off, record the working day against another day if possible.
For an employee booking time off, they need to go to 'book time off' under leave and there is a new category called 'COVID – TEMP MOVEMENT OF STAFF'.  They can then specify their circumstances.  Please see screenshots below: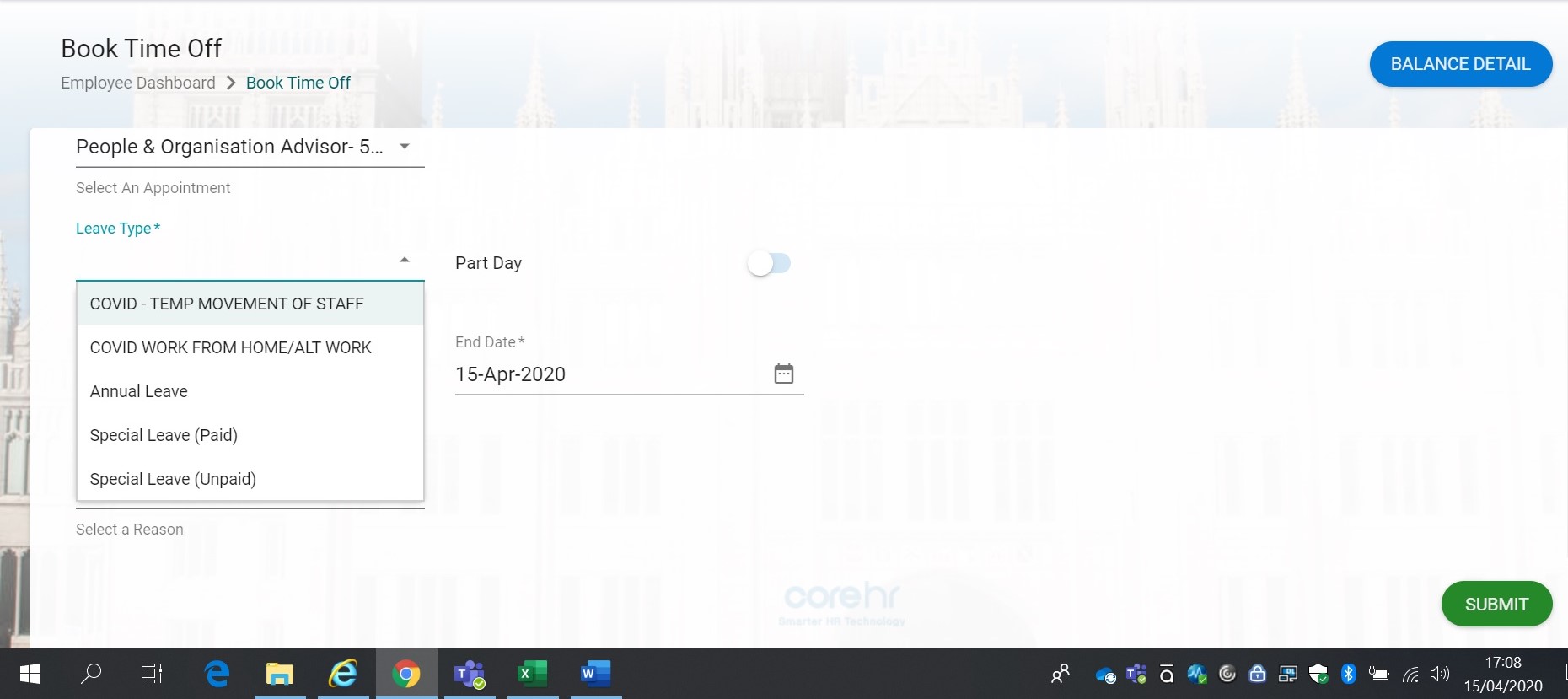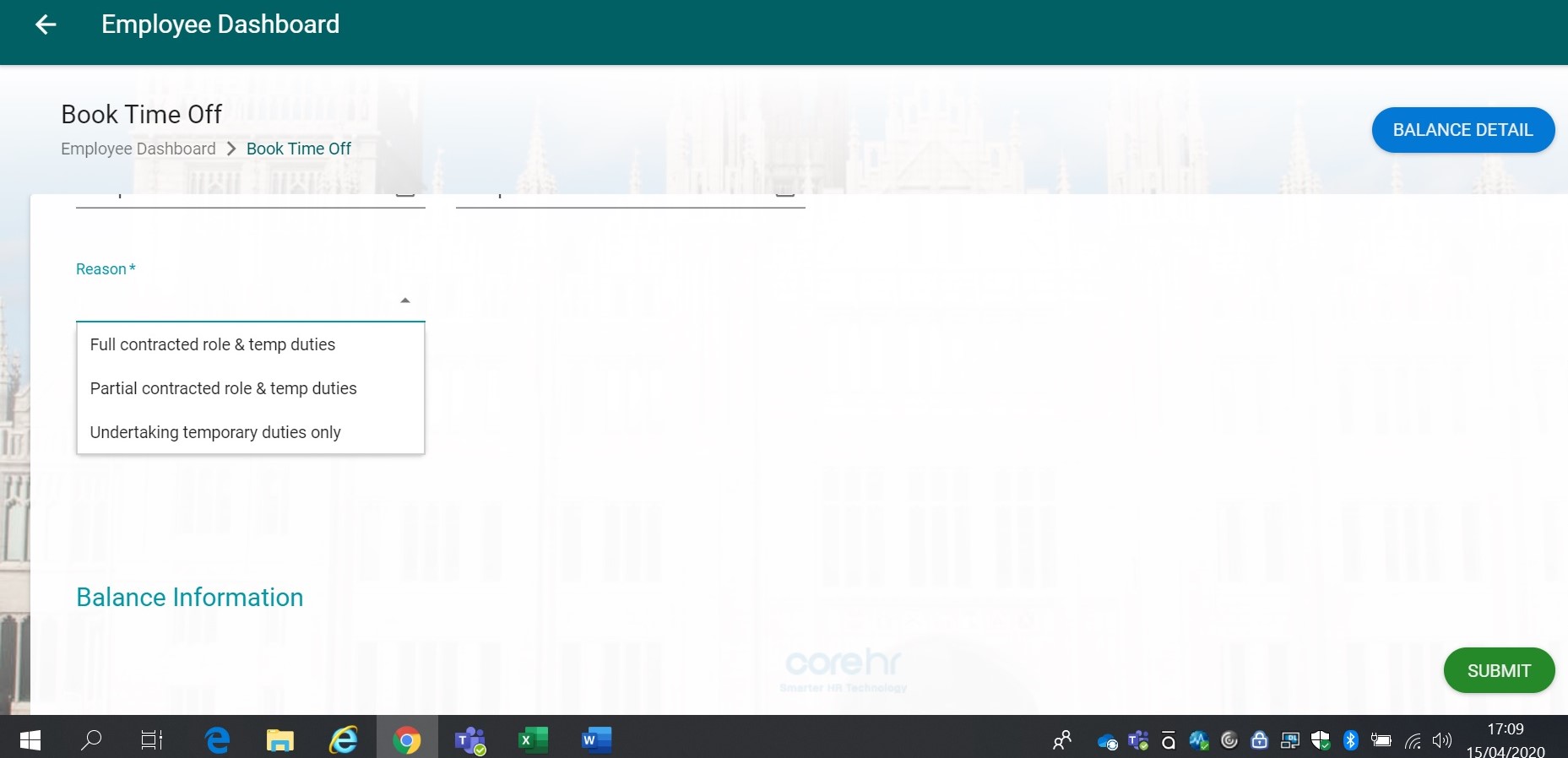 If a line manager is updating CoreHR on the employee's behalf, they will do so using the scheduler on the manager's dashboard and by adding an absence in Person Absences.  Please see screenshots of this below:


The categories cover three potential scenarios:
Undertaking temporary duties only –

The employee is fully moved into temporary duties

Partial contracted role & temp duties –

The employee is partly moved into temporary duties and still undertaking elements of their current role

Full contracted & temp duties –

The employee is doing additional duties on top of the full elements of their current role
 Please note, this should only be done once the employee has received written confirmation from the Talent Team about their new duties and begins to undertake them.  This should be done to cover the full period of their temporary duties and can be completed retrospectively where needed.
Record the days you would normally work as Undertaking temporary duties only.  There is no need to change your work pattern on CoreHR or record anything against your normal rest days.
You should claim any additional hours/days worked using the appropriate timesheet.
Record your full week as Partial contracted role & temp duties.
Record your normal working days as Full contracted role & temp duties.  There is no need to record additional hours you have worked on CoreHR if your temporary duties are on days which would normally be classed as rest days. You should claim any additional hours/days worked using the appropriate timesheet.
We

recognise

that we have a duty of care to staff to ensure that

employees

are suitably trained

and/or briefed

and

/or

qualified to undertake their work

, based on an assessment of the needs of the task

.




We

will continue with

our

statutory

/ legal

requirements

in respect of

Disclos

ure

Scotland

checks and professional registration

and

we will also

ensure we maximise the flexibility of our workforce.
Advice in relation to managing temporary

movement of staff

can be obtained from the

People and Organisation Cluster

and further information about Covid-19 can be found on

People Anytime

.
Our Guiding Principles are central to our approach to these circumstances and in particular our principles of Purpose and One Team are more important than ever. All employees are needed to work as One Team to support each other in delivering these critical and essential services so that we, as an organisation, can achieve our Purpose of supporting the people and place of Aberdeen during this difficult time.
(Visited 7,730 times, 1 visits today)