Aberdeen City Council is currently facing a period of significant change and we want to make sure you're ready for it!
We're all used to hearing the phrase 'the only constant is change'. However, we're experiencing an unprecedented amount of change in the council at the moment as we strive to keep up with the pace of technology, the rising expectations of our customers and national changes to funding. At the same time the 2016 Employee Opinion Survey identified 'change is well communicated to me' as one of the key factors in improving employee engagement. So it's never been more important to ensure that we're equipped to manage change effectively.
The purpose of this eResource is to provide you with a guide to leading change. The information, links, downloads and other resources are designed to support the development and delivery of change strategies that complement the continuous improvement of your work area and its operations (including change project planning) and at the same time support people through change.
The eResource provides information on:
The drivers for change

A simple process to structure change and a selection of change methods

The role of managers in leading and championing change

The people dimensions of change and practical ways of supporting people through the change process

How to develop your capability to deliver a coordinated, supportive and collaborative approach to change.

In the spirit of continuous improvement, we would welcome your feedback and suggestions about this eResource. Drop us an email and let us know your thoughts.
Change is not a 'thing' in itself – it is the result of the decisions we make to innovate, improve and transform.
The Strategic Business Plan 2017 outlines our organisational priorities and was refreshed earlier this year to take account of changes in our environment. Stronger linkages have been made between policy priorities, strategies and service plans. The Business Plan sets out a clear intention that all plans show a direct connection between our vision, the priorities documented in the SBP and the decisions and actions we take to improve services.
In order to successfully achieve the objectives set out in our Strategic Business Plan we need to continuously improve, innovate and transform the organisation so that we can deliver the council's purpose to support the prosperity of the city, to protect the people of Aberdeen and the place of Aberdeen now and to meet the expectations and needs of our customers in the future.
1 The drivers for change

There a number of factors driving our need to change. Firstly, our staff – while the 2016 Employee Opinion Survey showed an increase in engagement from 2014, we still have a long way to go to having a fully engaged workforce. And, since engagement drives productivity and innovation, it's important that we modernise and transform our working practices to meet what our staff need and expect. Secondly, our customers – customers' expectations are changing rapidly; they carry mobile devices, they do their banking and holiday booking online, they access their music and manage their to do lists using intelligent personal assistants; yet when it comes to their dealings with the council their digital options are limited; our customers are tech savvy – particularly our young people – we need to modernise to meet their expectations. And lastly resources – as a public authority Aberdeen City Council is working with increasingly reduced budgets; this means we have to make thoughtful, creative and sustainable decisions about the services we deliver in the future, decisions which focus on the place of Aberdeen and its people not on easy cuts and inward thinking.
That means it is essential that any decisions to improve, innovate and transform show a golden thread to Aberdeen City Council's vision and purpose, however it is also important that managers understand the wider drivers for change. An awareness of this macro environment (external market environment) factors that may have an impact on an organisation gives context to any political, economic, social, technological, legal and environmental influences that might need to be taken into account when assessing the risks that the identified factors pose and use that knowledge to inform decisions.
For example, here are some things you may not have thought about:
How clear am I on the impact of generational diversity on managing changes with my teams?
Have I taken a whole system approach to identify any strain my decisions could have on the public pound in other areas of ACC or across the wider public sector?
 How clued up am I on what digital disruption means to me, my teams and the services I provide?
For more information about planning and implementing change, including useful tools and downloadable documents, visit the supporting eResource  here 
---
2  Structuring change and choosing a change method
Process overview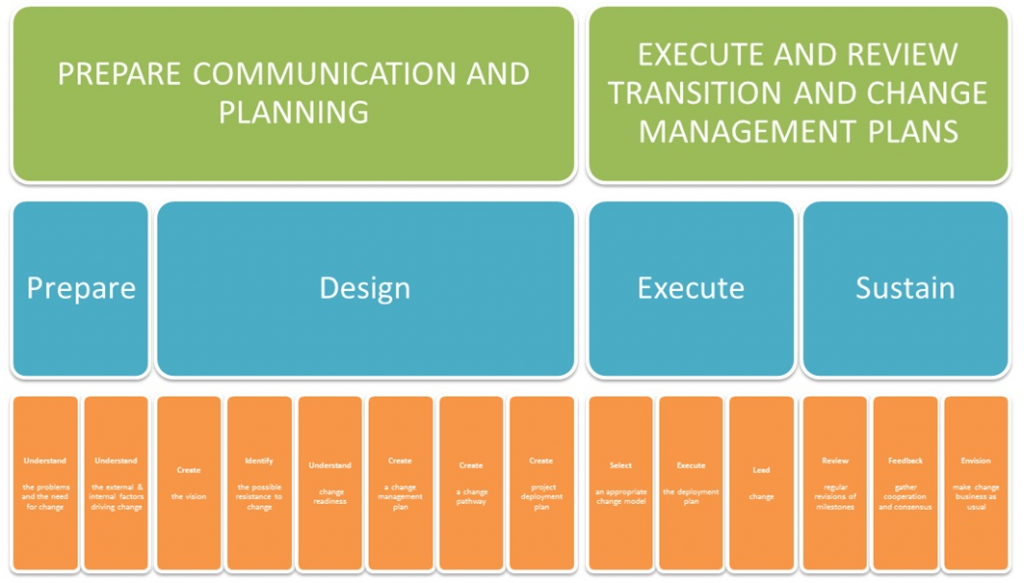 It doesn't matter if you're planning a fundamental, structural transformation or a smaller continuous improvement, successful change needs to be planned and executed using a change management process. This gives direction, structure for content and supports successful, sustainable transition of people and culture.
This simple four stage change process provides a comprehensive change management structure to support transition and change, from planning all the way to embedding the changes as business as usual.
Click here for a more detailed view of the image above and for more information about each phase of the change management process.
Choosing the most appropriate change model
There are many change management models. Each has advantages and Change Checklist disadvantages and will be more or less suitable to the changes you're proposing.
ADKAR – This model takes you through the five outcomes an individual must achieve for change to be successful: awareness, desire, knowledge, ability and reinforcement.
Advantages –

It combines the process and people dimensions of change.  Provides a clear checklist for managing change.

Disadvantages

–

Is silent on the role of leadership and the need for clarity and direction.  Doesn't provide a programme plan structure for change.   
Kotter outlines the 8 steps to effective organisational change.
Advantages –

The process is a step-by-step model so gives guidance.  The focus is on preparing and accepting change, not the actual change.  Fits well with cultural hierarchical structures.

Disadvantages

–

Steps can't be skipped model  is top down.  It doesn't promote co-creation and participation.  Can be time consuming.
Systems Intervention Strategy (SIS) – considers change from the angle of three overlapping phases – diagnosis, design and implementation.  Visit the elearning module to learn more. 
Advantages –

Provides process for understanding, planning and changing system redesign.  Widens system redesign from focusing on hard elements to focus on the overall process.  Suitable for complex, interdependent change problems.

Disadvantages

–

Risk compartmentalising sections of system change is silent on cultural and people dimensions of change.
Lewin's 3 Stage Model – Lewin's model – known as Unfreeze – Change – Refreeze – refers to the three-stage process of organizational change using the analogy of changing the shape of a block of ice. See the summary of Lewin's 3 Stage Change Model and Lewins model in action.
Advantages –

Easy to use. Suitable for small changes. Provides stabilising and consolidating the new situation and system.




Prevents slip back into old ways of working

Disadvantages

–

Lacks flexibility. Implies the end of a change is constant. Doesn't allow for adaptive change and continuous improvement.
If you need more support in choosing the right change model for your own situation, access the 'Choosing the right model' Pitstop. by contacting the Organisational Development team for more information.
Click  here to download a copy of the change checklist which takes you step by step the questions you might ask yourself in managing successful change.
---
3  How to purposefully lead and champion change
As a manager you may well be tasked with leading a change you did not instigate or plan. You will be expected to support the implementation and embed the changes within your service and this can be challenging if you do not fully understand the drivers and/or agree with the changes being introduced. It's possible you might have reservations and concerns for yourself, your team or even the impact on service delivery. You may also be faced with dealing with these thoughts without being able to share them with your teams.
Here are some ways that might help you develop your leadership presence when dealing with change.
Get clear on the reasons for change
Your teams will be looking to you for leadership and direction. This means it is critical for you to fully understand the reasons and drivers for change so that you can communicate them with purpose and clarity.
These three questions can help you get clear:
Why is the change happening – what is its purpose?
What will the change involve?
How it will affect my staff?
The clearer you are on the answers to these questions, the more able you will be to work through your own reservations or concerns, the better your communication will be and, in turn, the smoother the transition will be for your team.
Keep your own resilience high so you can support others
Stephen Covey developed a useful tool to support people through the change process. The circle of influence gives people an insight into how they typically respond to external events (including change) and how they might view things differently.
Covey talks about having choice.  He promotes the idea that our choices to focus on what we can control and influence, and also what we cannot influence, result in how we feel about situations around us.
As a manager you can use this tool to develop self-awareness both with yourself and with individuals in your team. Click here to read more about the theory and how you might apply it in practice.
Here are some other resources you might find helpful:
Read about our top tips for building resilience here
Complete the free I-Resilience Questionnaire to help you understand any blockers to resilience and what can help you to build greater resilience
Read the

 

Resilience article on the Mindtools website
Watch the

 

You Tube videos on resilience.
The power of modelling leadership whilst managing change
John Kotter tells us that the distinction between "change management" and "change leadership," is significant. In this video he explains his thoughts.
According to Kotter change management refers to a set of basic tools or structures intended to keep any change effort under control. The aim is to minimise anything that takes the process off meeting milestones, targets and the impacts of change.
Change leadership, on the other hand, concerns the driving forces, visions and processes that fuel large-scale transformation. This video, summaries the differences between the two concepts and highlights why it's important to focus on change leadership to meet the increasingly changing environment.
---
4  Understanding human responses to change
People react to change in different ways and this can result in different attitudes, behaviours and levels of performance. Some may see the opportunities that arise from change while others may feel anxious or threatened. Because of the variety of responses, it is important for managers to be skilled at supporting individuals whatever their reactions to change might be. Click here to read about two theories that outline the human responses to change.
Once you have an understanding of what the different possible reactions to change might be, embrace this as part of the planning process. William Bridges theory of transition is a useful way of mapping the emotional responses defined by Kubler-Ross into a structured approach you can use for planning communication of change. Click  here to read about William Bridges theory.
Resistance as a resource



Introducing a proposal for change into a group of people with an already full schedule can be difficult at best and impossible at worst. Therefore it stands to reason there will be some reaction, and it is likely to sound negative, in part because people don't always choose – or know how – to communicate productively.
Seeing resistance as valuable and seeking the wisdom or foundation of what is being said will give you a far greater ability to use resistance to advantage when implementing change.
Start with yourself
Before starting to deal with resistance, consider shifting your own point of view about the reactions people have during change. This requires an awareness of the hidden, almost unconscious, reasons why we may blame resistance on negativity.
This tendency is a combination of three underlying forces:
cognitive biases – the decisions we've already made about people and situations
social dynamics – the cultural unwritten, unspoken rules that create social expectations
human errors – the mistakes we make but don't recognise eg breaking agreements and failing to repair the loss of trust.
Although these are natural and on-going, the result may be that we end up blaming others without considering the part we play ourselves. With greater self-awareness we can balance our responses to people's reactions during change.
Working with others

The process of working with individuals and groups to change systems and practices has no simple recipe, but people's objections, worries, and fears are likely to contain valuable information that can be used to accelerate and smooth the process. Resistance is a naturally occurring phenomenon in organisational change but it is possible to accept it as inevitable and seek the benefits it can offer the change process.
Here are a few examples:
Gather change momentum
In the early stages of change, any talk, even negative, might be the only thing that keeps a change proposal active. Change your perspective from considering complaints, criticisms and objections to be forms of resistance,  to seeing any highly charged dialogue as a useful awareness raising function. Resistant talk can deepen the discussion and keep conversations about the change circulating.  Often they are simply a sign that people are working towards personally processing what the change will mean for them as individuals and as a team.
Harness resistance to return to your purpose
Over time team purpose and priorities can be diluted and even lost. Capitalising on the discussions around resisting can help clarify purpose and vision. This is a useful opportunity to address any difference between individuals' perceptions and remind people the reason your team and service exist.
Resistance can shape change
Sometimes people who are seen as "difficult" can slow a change proposal, or prevent it from moving productively by being active in their resistance. However, it is worth remembering that people who are outspoken about their objections to a change proposal are often those who genuinely care about getting things right, and who are close enough to the inner workings of an organisation to see the pitfalls in a plan. Managers who are willing to embrace resistance and see it as wisdom and work alongside resisters can see their plans improved and their change proposals altered for the better.
Read a fuller account of making the most of resistance here
When we are too quick to label those who raise objections as resistors and dismiss what they have to say as resistance, we overlook opportunities to get the process strengthened and back on track. We also set up a self-fulfilling prophecy where we end up blaming resistance for any difficulties and failure. Click here for some other tips on how to spot resistance and how to deal with it.
Communicating Change
In the downloadable document above about Bridges theory of transition you were introduced to the 'marathon effect'. Understanding the timings of your own transition journey and how that relates to others is key to appreciating the importance of providing the most appropriate level of communication at the most significant times and your role in leading and championing change with authentic ongoing communication.
It is also useful for managers to understand the different nature of communication. It is tempting for the content of our communications to be around things to do. Plans, objectives and milestones are known, definite and easy to explain, however, communications which talk about visions and common purpose will connect with people at a deeper level.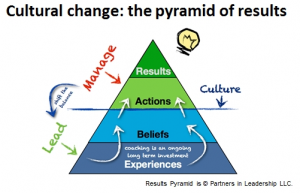 This illustration shows the difference between what to manage and what to lead:
Managing = focusing on change plans that are rigidly designed around 'push activities' (plans, goals, milestones and motivation) which form the building blocks of the beginning of the transition for many change plans, and

Leading = the impact and importance of investing in powerful 'drawing activities' (vision, commitment and alignment of purpose) by providing story based leadership that will lead, support and build the change journey with those going through change.



In this video Simon Sinek outlines the power of communicating at this deeper level and how this can result in more action.  For more information and ideas on what you as a leader can do check out this presentation.
Keep people engaged and motivated to maintain productivity
Once you understand how people react to change you can strive to keep them as empowered and motivated as possible. Click on Top Motivating Tips to learn about the top tips for keeping employees motivated during a change process.
As a reaction to changes some people can lose focus and as a result productivity can dip. This article provides a summary of some strategies to keep your team focused.
Keep People Informed and Consulted
Your leadership can play an important role in keeping your teams informed and consulted with during and after the change process. One of the most common frustrations that can lead to disengagement is that people feel out of the loop, uninformed and out of date with what's happening in the organisation.
Providing opportunities for people to be updated and ask unanswered questions is the key ingredient to a good communication plan. Scheduling and sticking to the schedule not only gives space for voicing questions but also provides active visible leadership.
Good communication:
1) BUILDS TRUST: You will deepen relationships with your team by sharing your organisation's updates, successes and challenges. Individuals will feel more valued. By openly sharing you are demonstrating that you trust them … and they, in turn will be more prone to trust you and the organisation's reasons for change.
2) ENCOURAGES EMPLOYEE ENGAGEMENT AND RETENTION: When people feel part of a team, they are more engaged, committed, and likely to stay with the organisation longer. That translates into stability for your team, cost-savings from less hiring and training and more productive and committed individuals. And all that results in a better service for your customers.
3) DEMONSTRATES ACTIVE, VISIBLE LEADERSHIP: Communicating often, especially at times of change, tells the organisation that you champion the change. Being proactive and keeping the team advised avoids gossip, rumours and stress. As a leader, you have the ability to minimise such negatives by proactively communicating.
You will have existing spaces for consulting and informing teams, including team meetings, group forums, 1-2-1 sessions and working groups. Make sure these sessions are two way so that people feel they can raise their concerns and have their questions answered.
These face-to-face modes can be supplemented by written communication updates, emails and webinars. The more human these communications are the greater the likelihood that people will engage with what you're trying to accomplish.
---
5 Why is this capability important?
Change is an essential part of life; we and things around us are always changing. As a public authority we are inherently changing on a regular basis but increasingly Aberdeen City Council is faced with the need to transform the way we deliver our services to keep up with the pace of technology, the expectations of our customers and the impact of continuing austerity on our finances.
This is necessitating the urgency of making and realising savings from on-going improvements, innovations and service transformation so we can continue to safeguard our services and assets and meet the needs of our staff, customers and communities into the future.
What does change look like when it's done well?
Managers purposefully seek and initiate improvements and personally embrace and model change in an proactive way




Clear information about proposed changes are shared in a timely manner and the reasons for changes are communicated consistently and effectively

Managers support people through change, addressing their concerns and involving them in decisions that affect them

Managers provide clarity of roles and responsibilities, personally drive the change process and hold people to account for delivery.



Strategies for developing this capability
Become familiar with ACC's change agenda/programme and understand the drivers for change

Adopt a continuous improvement mind-set and embed this methodology as how we do business

Understand the impact and role of leading and managing change and actively champion change

Understand the significance and benefits to effective communication and engagement

Expand knowledge by attending learning and development available through the core managers programme

Evaluate change activity and use the findings as stimulus to improve your approach to change.



Curious to learn more? Find out what other development is available to help you effectively lead change by visiting People Development
Click here to return to the main Resources Hub page
Add a 'Like' and/or a 'Rating' below to indicate how useful you found this page
(Visited 63 times, 1 visits today)