I Work Regularly Away From the Office
Many Council roles require staff to deliver services at client and citizen premises as a regular part of their job.  Where your responsibilities require you to have access to a computer whilst in the field you will generally be provided with a portable device such as a laptop pc.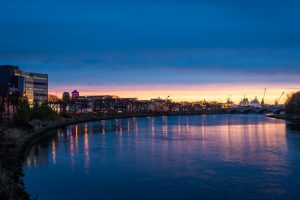 ---
Ian works frequently away from the office and has to attend meetings or deliver services at ACC offices and partner or client sites. Some of the information Ian requires whilst working remotely might be personal or sensitive in nature. He has been provided with a laptop computer. Ian should;

only take the paperwork required for the meeting rather than the whole file.

keep any manual information secure and with him at all times.

where physical transportation of sensitive data is required, use only an encrypted USB device provided by the ICT Helpdesk.

report any loss of data immediately to the information officer / line manager in accordance with the Data Breach Procedure.

Sensitive or personal data should never be saved onto the local (C:\) drive but instead should be saved on the network drive (when connected) or to an encrypted USB device supplied by ACC.
Click here to return to the main Flexible Working page
Add a 'Like' and/or a 'Rating' below to indicate how useful you found this page
(Visited 6 times, 1 visits today)