Mentoring is about one person, usually more experienced, helping another to make continuous improvements in skills, knowledge, work or thinking, outside the normal line management relationship.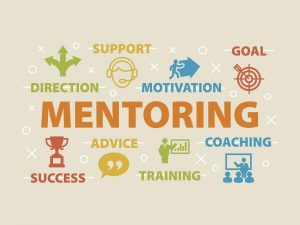 It is an excellent developmental opportunity that affords many benefits for the mentee: helping individuals to integrate; to deal with change; to acquire increased understanding and knowledge of the organisation and its culture; to acquire new skills and to grow in confidence; to help them take responsibility for their own development, and to become self-sufficient in resolving issues. The below page we hope gives you all the information you need to learn more and sign up. If you need any further information then please get in touch with us at: peopledevelopment@aberdeencity.gov.uk
What is the difference between mentoring, coaching and training
·

     
Long term (12 months)
·

     
Broad focus on the mentee's needs and personal development.
·

     
Focus on identifying and achieving longer term career or personal goals.
·

     
Directed by mentee; mentor provides a supportive, guiding role.
·

     
Mentor has experience/ skills in a relevant area.
·

     
Mentor may give advice.
·

     
Short term.
·

     
Specific, immediate work-related issues or goals.
·

     
Meetings are focussed on resolving issues/ goals.
·

     
Coach does not need to be an expert in the area of work but will have a formal qualification in coaching.
·

     
Coach does not give advice.
·

     
Coach does not necessarily have the same experiences of the coachee.
·

     
Aimed at addressing a specific learning gap rather than an individual goal.
·

     
Will equip an individual with the tools and knowledge in a particular area.
·

     
It will be up to the individual to apply this knowledge to their personal situation.
·

     
Shared learning through discussion with a larger group.
·

     
Some may feel less able to be completely open in group training.
Why we need a formal mentoring scheme?
You may already have established a mentoring relationship informally and may be unsure of the benefits of a centrally managed mentoring scheme.
However, establishing a mentoring relationship informally often relies on meeting the right person at the right time and means that all staff do not have equal opportunity to benefit from suitable mentors. 
A formal scheme ensures that all staff have equal access to mentoring opportunities and can be matched with the member of staff most suited to their needs.
In addition, as part of the scheme you will benefit from the resources, training and support which will help you get the most out of your mentoring relationship.
Information on Being A Mentor
If you would be interested in becoming a mentor the first step, if you have not already, is to sign up to mentor training which you can do here. 
Once you have completed your training you will be invited to join our bank of mentors. If you have already completed the training click the below button to register now.
What happens once I am registered as a Mentor?
You will join our pool of Mentors. There then
 may be a gap until a mentee best matched to your skills requests a mentor.
Who would make a good  Mentor?
Anyone! If you are willing to share your own experiences there will be someone out there that could learn a lot from them.
We would expect you to be able to commit to a partnership which typically lasts for a couple of ours a month over the course of a year.
Information on Finding a Mentor
Could you benefit from a Mentor?
If you would be interested in becoming a mentee and gaining the invaluable support of a mentor, then

click here

 to complete the eLearning on the role of a mentee and how to get the most out of your relationship.
Once you have completed the training you will be able to register for a mentor from out bank.
If you have previously completed the 'How to be a great mentee' training session then you do not need to complete the eLearning and instead can go straight to the sign up button below.
Can I choose a specific Mentor?
You can see the profiles of all of our current Mentors here.
While you can absolutely specify a preference for a particular person in the application form, t
here is though a chance that they may already be committed to another mentee.  If this is the case we will give you the option of another mentor who matches your needs as closely as possible?
What happens once I am registered as a Mentee?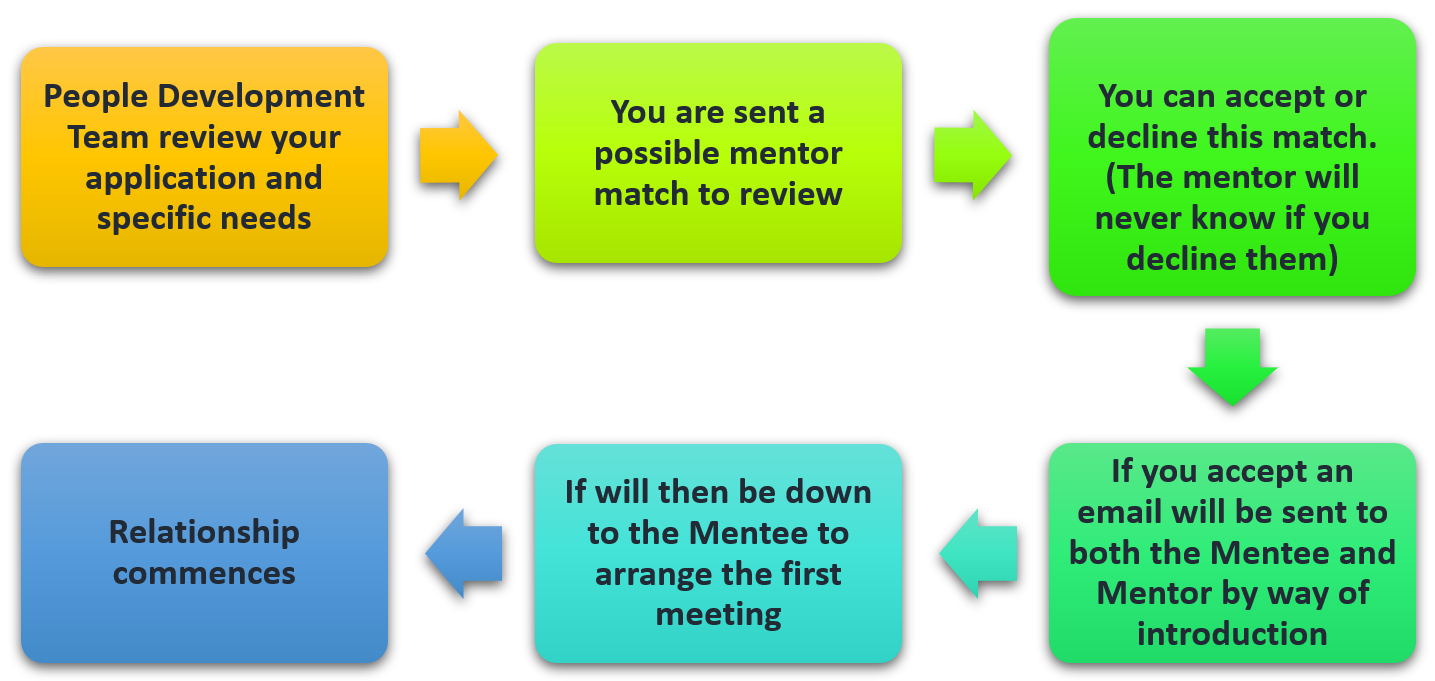 Click here to return to the People Development Home page.
 Add a 'Like' and/or 'Rating' below to indicate how useful you found this page
(Visited 161 times, 1 visits today)