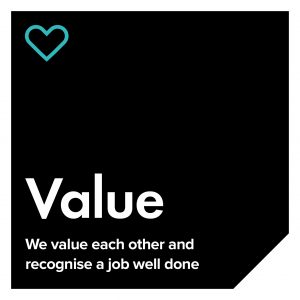 We value each other and recognise a job well done
To do this effectively each of us needs to:
Promote equality and diversity

Value others and celebrate success
Find out a bit more about each of these below or click on the link to remind yourself of the skills, knowledge and behaviours needed in this section
Why is this important ?
Diversity matters. It's important to us as individuals and it's also important to us as an organisation. Research shows that organisations that value diversity perform better. Promoting diversity and equal opportunities helps make us an employer of choice able to attract and retain talented people. It brings different perspectives and makes us more creative. Diversity in our workforce mirrors diversity in our communities and helps us provide a better service to our customers.
And, of course, we also have a legal obligation to make sure equality and diversity is part of everything we do. This is set out in our Equalities Outcomes and the Equality Act (2010).
What does equality and diversity mean in the council ?
Basically, it's about promoting equal opportunities and making sure we don't directly or indirectly discriminate against the following 9 protected characteristics, as identified in the Equality Act (2010).
Age
Disability
Gender reassignment
Marriage/civil partnership
Pregnancy and maternity
Race
Religion or belief
Sex
Sexual orientation
It's unlawful to discriminate directly or indirectly on the grounds of the protected characteristics when:
recruiting, selecting and employing people
providing goods, facilities or services to customers
It is also worth remembering, that we have a responsibility to assess the impact of our policies and practices on equality by carrying out an Equality and Human Rights Impact Assessment (EHRIA) to assess the impact on people with protected characteristics. 
If the EHRIA finds that people with protected characteristics would not have equal access to our service or are over-represented or are not getting as good a service, we must do something to resolve the situation.
As well as the protected characteristics the Impact Assessment also includes a category 'other' where we can identify others at risk of experiencing a negative impact through, for example, poverty or their postcode.
If you would like to know how to complete a EHRIA, then click here to access a short OIL course.  
What does it mean for me
?
All of us have a responsibility to make sure everyone is valued, respected and included; to speak up when we see this is not happening; to challenge any unlawful discrimination in the organisation and in the city. 
We should value individualism, promote good relations between people with different protected characteristics and others and make managing diversity a mainstream issue ensuring anyone in contact with Aberdeen City Council is treated with fairness and respect.   
As a council we consider equality and diversity to be so important that we require everyone to have a full understanding of their responsibilities.  This means that if you're an employee you should complete the Equality and Diversity OIL module and if you're a manager you should also complete the Equality and Diversity for Managers online course.   
You can discover more about each of the protected characteristics and what it means for you on our Equality and Diversity site 
Why is this important ?
Feeling valued and appreciated is so important to people that it has become one of our Guiding Principles – 'We value each other and recognise a job well done'. When people feel valued by the organisation and by their colleagues they are more likely to go above and beyond and are quicker to hold themselves accountable for their part of a project. 
What does 
valuing
 others and celebrating success mean 
in the council ?
As an organisation we have formal ways of recognising people and celebrating success.  Our annual STAR awards are held in June and recognise staff who've been nominated by their colleagues for outstanding work in a variety of fields.   
Continuous Review and Development (CR&D) is by its very nature about ongoing conversations and is based on valuing people by encouraging and giving feedback.  CR&D also has an 'exceptional' category where projects well delivered, excellent customer feedback or outstanding improvements implemented can be acknowledged at any point in the year and as often as they happen.   
Our Chief Executive frequently uses her blog to highlight success stories and outstanding achievements by individuals or teams right across the organisation.  And different Clusters and Functions have their own ways of recognising people. 
Regularly celebrating successes and providing recognition for a job well done can help everyone align to the values that contribute to long term success. By creating a culture of recognition we can improve employee morale and ensure that your most valued colleagues are motivated. Praise makes it easy to celebrate wins, encourage progress, and reinforce positive behaviours to improve morale and performance 
What does it mean for 
me
?
In a less formal way valuing others is about recognising that everyone brings something to the party and valuing everyone's contribution.  It's about being welcoming and inclusive; being professional and sensitive to the impact our actions have on others; always treating colleagues and customers with dignity and respect.  At is most basic it's just about acknowledging people saying 'thank you'. It's in everyone's own hands to behave this way. 
If you're a manager, it's important that you understand what motivates the individuals in your team – what they value.  It's also important to recognise that for the first time we now have 5 generations at work, each of which will value slightly different things at work and that we respect and value what each of these generations bring.  It's also important that you are skilled at coaching and giving constructive feedback – and equally skilled at accepting challenge and feedback yourself.
Want to develop in this area even further ?
Book your place on workshops such as:
This supports the organisational capabilities:
Encouraging inclusiveness, engagement and collaboration

Being flexible and adaptable
(Visited 207 times, 1 visits today)