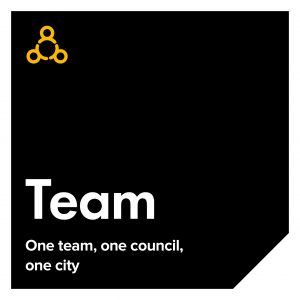 One team, one council, one city
To act effectively as one team each of us needs to:
Work collaboratively

with colleagues, other teams, across the council and with partners

Support each other

's health, safety and wellbeing

Look for opportunities to

share and make best use of all our assets, resources and data
Find out a bit more about each of these below or click on the link to remind yourself of the skills, knowledge and behaviours needed in this section
Why is this important?
Everything we do at work, from decisions we make to changes we introduce – within our own role or the wider organisation – connects to, impacts on or is dependent on other individuals, teams and services.  Whether you call this a chain or a process or a system, everything we do is connected to how the council operates and contributes to achieving our purpose of making Aberdeen, a place where people prosper  It's therefore crucial to work with the other people who are part of the chain to achieve our outcomes.  
Working in this way recognises that one person, team or organisation doesn't have all the answers.  Involving a wider group of people who also have a stake in what's to be achieved, gives wider perspectives, deeper insights and more ideas which result in better solutions and decisions. Collaborative working also helps generate efficiencies and make better use of resources.
What does working collaboratively mean in the council?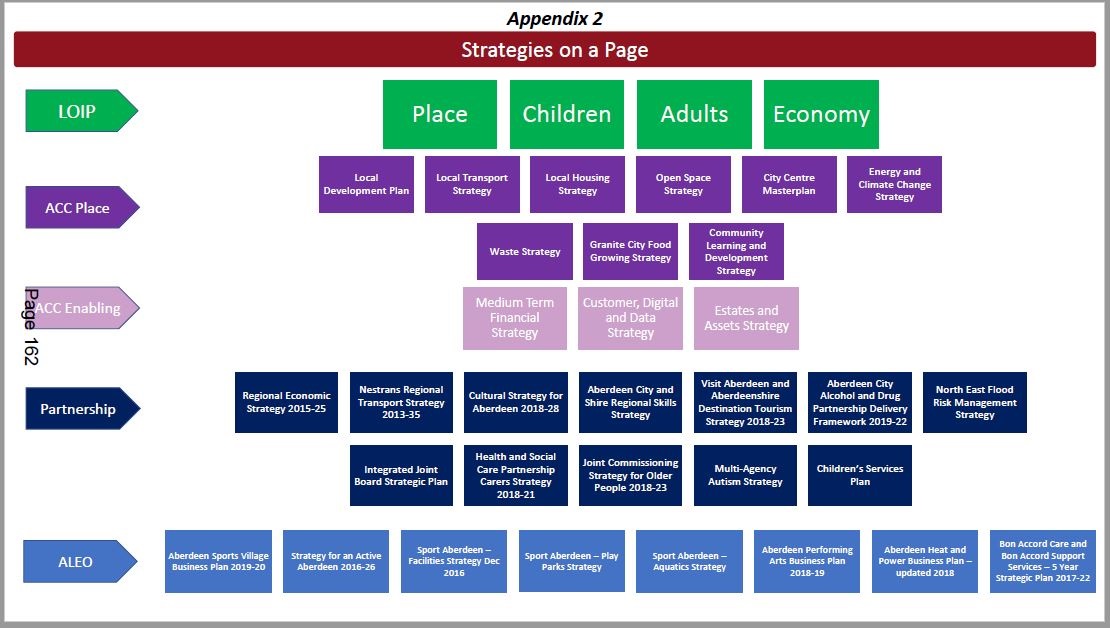 The council has a number of strategies in place which set out our future direction and long-term plans for improving outcomes for our citizens and for tackling some of the deep-rooted inequalities in Aberdeen.  These include the Local Housing Strategy, the Waste Strategy and the City Centre Master Plan.
The illustration above shows all the strategies we are actively working towards. Some of these will be delivered with our Community Planning Partners, some are internal to the council, some will be delivered with regional partners and others with ALEOs (Arm's Length External Organisations – such as Bon Accord Care, Aberdeen Performing Arts and Sport Aberdeen).  These strategies are key to the future success of the city so it's crucial that we work collaboratively with partners to deliver these.
We also need to work collaboratively internally as most of our strategies cut across different parts of the organisation.  So, the structure of the council is deliberately designed around services working together.
As we look to shift and manage our demand differently, we also need to work much more closely and collaboratively with citizens and communities. The Community Empowerment Act sets out our statutory duty to work together with the people of Aberdeen in how we deliver our services now and in the future. 
As a local authority, we have a successful working relationship with trade unions and recognise the right of the trade unions to represent the views of their members. The terms of this working relationship are defined in the Framework Agreement for Industrial Relations – often referred to as the FAIR Agreement. 
The range of communication methods we have available to us helps make collaborative working easier – for example information can be shared through the intranet, we can consult with people through Citizen Voice and new tools available through Office 365, such as Teams and Sharepoint, allow for greater digital sharing and collaboration.
What does it mean for me?
Each of us has a role to play in working collaboratively.  All our work is inter-connected.  Understanding how the work you and your team does connects to and impacts on other parts of the business is fundamental to working collaboratively.   It's also important to keep up to date with what's happening elsewhere locally or nationally in our own area of work.
It's easy to see something that needs fixing in our own area of work and make the fix then wonder why other folk complain or don't do what's asked.  We all have a responsibility for thinking about how our decisions and actions might affect others in our team and other parts of the organisation and for seeking the opinions of and involving those who might be affected so that a solution can be found that works for everybody.
Want to know more about Working Collaboratively?
Look at these:
Attend this:
Facilitation skills workshop – coming soon
Why is this important?
Supporting each other is important and there's a particular emphasis just now on supporting people to be mentally healthy.  Mental Health is becoming a more commonly talked about subject. 
It's widely recognised as contributing to how engaged and motivated we feel at work and it can have a direct impact on our ability to  carry out our roles effectively. There's also lots of research to support the belief that a happy, motivated and engaged workforce leads to increased productivity, better performance and a good customer experience. 
So if our purpose is to make Aberdeen a place where people can prosper that equally means making sure our workforce prospers which, in turn, means supporting our own health and wellbeing as well our colleagues.
But in this time of radical transformation, where ways of working are changing, our workforce is becoming leaner and the level of work feels the same if not greater than ever before, it can be difficult to maintain focus, motivation and see how your role contributes and makes a difference – it can become hard to look above the parapet.
What does supporting each other mean in the Council?
Early in 2019 the Staff Governance Committee approved a Mental Health Action Plan for the Council.
The plan focuses on making sure mental health is a priority for us all and that we build a culture that encourages an open, inclusive and supportive attitude towards wellbeing.
What does it mean for me?
Supporting health and well-being starts with self. 
Crucially it's about being aware of how your own behaviour and actions might affect the resilience and well-being of others.  It's so easy to come into work in a bad mood because you were caught in traffic or have just had some news that's making you irritable.  We all have negative feelings and it's good to acknowledge that this is a normal part of being human – we can't be positive all of the time.  It's what we do with those negative feelings that's important. 
If we're not aware of our emotions, we might inadvertently treat a colleague badly by the way we speak to them or word an email.  Passing on our moods is usually not intentional but it's easily done and the impact it has is to bring the other person's resilience down.
You might remember hearing "sticks and stones may break my bones, but names can never hurt me".   Neuroscience has uncovered the uncomfortable truth about this childhood rhyme.  Numerous studies reveal that the pain receptors that kick in when you stub your toe, jam your finger or otherwise injure yourself physically are the same ones which activate when you hear hurtful words.  So being conscious of what we say and how we say it could make the difference to someone having a good day, a great day or simply want to curl up in a ball and hibernate.
And a bit like the safety instructions on an airplane, you can't take care of someone else until you take care of yourself. 
If you're a paid leader, you need to be more than just aware of what's going on around you, you need to be consciously managing the situation and creating an environment where people feel safe and supported to unburden and let off steam without being judged harshly.
There are lots of ways you can support a healthy workplace – here are just some examples you can use for yourself and others.
Connect – staying in touch with people makes us feel happier and more secure, often just having a chat can help to lift a mood. Here's some things to try:

Put 5 minutes aside to ask a colleague if they're OK
Arrange to meet up with colleagues you haven't seen in a while -whether it's lunch, a coffee catch-up or drinks after work, it's the connection that counts
Be Active – being active isn't just good for our health, it's also proven to have a positive effect on mental health and well-being. You can change your state by changing your behaviour.   Here's some things to try:

Feeling stuck? get up, move around, work from somewhere else – shifting your perspective can have a dramatic effect on how you think
Lacking energy? Go for a short walk; hold a walking meeting; move around – exercise releases the feel-good chemical endorphins and low intensity exercise sustained over time spurs the release of proteins which cause nerve cells to grow and make new connections
Take Notice – whether spending time with colleagues or taking a moment to yourself, stop, take notice and be aware of the present. Being mindful has proven health benefits including helping control emotions and decreasing stress, anxiety and depression. It can also help focus our attention.  Here's some things to try:

Take notice of how you, your colleagues and those around you are feeling
Spend time outdoors, enjoy the fresh air and notice what's around you
Set aside some 'you' time to take up yoga or practice mindfulness – it's been shown that 10 minutes a day of mindful meditation has really positive benefits
Learn – learning improves your self-esteem and confidence.  It can be a great way to meet new people and build your network at work.  Here's some things to try:

Sign up to learn something new – whether it's a workshop, a webinar or something else, get your brain pumping with new information and then work out how to put it into practice
Give – giving can be very rewarding – people with a greater interest in helping others are more likely to rate themselves as happy.  Here's some things to try:

Volunteer for a cause your passionate about – at work, there are loads of working groups you can get involved in
Share your learning with others – reconnect with your colleagues
Spend time with someone you know has been having a difficult time – you don't need to solve their problems, simply being there and listening can be enough
Want to learn more about supporting each other?
Look at these:
Attend this: 
Personal resilience workshop – coming soon 
Why is this important?
As public funding decreases it becomes more important that we view public assets and resources as a shared pot and make best use of that pot for our customers. 
We can use the information we collect and hold about our customers as well as information that might be shared with us through other agencies and partners to better understand, forecast and reshape demand as a whole council rather than as individual services.  In practice, this makes us better informed about how to make best use of the various assets and resources that we hold. We can be more informed about what's actually needed rather than what we think might be needed, making huge efficiencies in terms of procuring and delivering services.   
What does sharing and making best use of assets, resources and data mean in the council?
The Council aims to be a data-led organisation making sure that the decisions we make about how we use our resources is firmly based on evidence.  Along with our partners – we have access to a wealth of data about customers – and the ability to join up that data.  Within the Council we're developing a master data management hub which will give us access to a single customer record that captures all of a customer's  requirements in one place. This will allow us to see the customer as a whole person rather than dealing with their separate needs in different silos.  For example, their education needs, separate to their housing needs, separate to their social care needs. Basing our decisions and actions on this type of data also allows us to better understand and predict needs and helps us manage future demand through early intervention and prevention. 
Sharing data also means working collaboratively with our Community Planning Partners to ensure that decisions taken in one organisation don't adversely affect another.  For example –  the Council doesn't have a statutory duty to grit pavements in winter.  While we may have carried out this role in the past, budget constraints might mean that this 'service' can no longer be provided. At the same time, not gritting our pavements raises the risk of increased slips, trips, breaks and concussions entering A&E – which has a significant impact on the NHS budget and resources – potentially a greater cost that gritting pavements in the first instance.
So by sharing information and working collaboratively, we increase our potential to make better, more informed decisions to improve our use of resources and improve customer experience.
What does it mean for me?
Each of of us has a responsibility to know where to find the information we need at work, to keep our knowledge and skills up to date and to share that knowledge with others.  If you're a paid leader you have a role to encourage this spirit of sharing in your team and across teams  In this way we can avoid waste and duplication of effort.
We also have a responsibility for making sure the data we gather and record is accurate and up to date.  If not our decision-making will be flawed. 
And it's not just about sharing, it's about making best use of what we've got.  For example, the Council has invested heavily in Office 365 which could potentially bring huge benefits to the organisation but those benefits are dependent on people learning the system and using its full capability.  
Want to learn more about sharing and making best use of assets, resources and data?
Have a look at these:
This supports the organisational capabilities:
Being flexible and adaptable

Encouraging inclusiveness, engagement and collaboration

Achieving consolidation and consistency

Becoming intelligence-led
(Visited 236 times, 1 visits today)