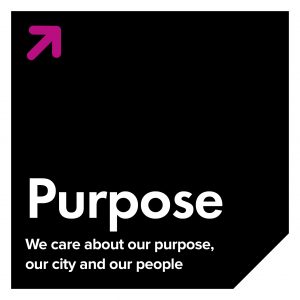 We care about our purpose, our city and our people
To do this effectively each of us needs to:
Understand our purpose and direction so that we're clear what we're trying to achieve and can focus our priorities on achieving that purpose

Understand and manage demand – know where the demand on our services' time and resources comes from and think about how best to manage this demand so we make best use of our resources

Take a customer-centric approach which puts our customers at the heart of what we do 
Find out a bit more about each of these below or click on the link to remind yourself of the skills, knowledge and behaviours needed in this section
Why is this important
Research into human psychology shows that people feel more motivated when they understand 'why' they are doing something and how what they're doing contributes to something bigger. In other words when they understand the purpose and can see how they fit into this.
So how does that apply in the council?  When you look at the diversity of services, programmes and projects we're involved in, and the varied work colleagues do, you get a flavour of just how complex the business of a local authority is.
From closing education attainment gaps and tackling food poverty to reviewing adult protection and increasing flexible childcare provision right through to pioneering hydrogen technology and introducing a cycle hire scheme our remit is incredibly wide ranging.
So, given the number and diversity of roles we have in the council, is it possible to find a common purpose which can bind us all together?
The short answer is yes. 
What does purpose and direction mean in the council  
We share a common purpose not just in the council but also with our Community Planning Partners.  This shared purpose is set out in the Local Outcome Agreement Plan (sometimes knows as the LOIP).
The LOIP sets out how we, together with our North East partners, will improve outcomes for the people of Aberdeen.  The LOIP vision is that Aberdeen will be 'a place where all people can prosper' by 2026. By this we mean that we want everyone in the city to have the same opportunities, regardless of their background or circumstances. 
More specifically the LOIP is designed to achieve the following outcomes:
Prosperous economy – improving our economy and employment opportunities
Prosperous people – ensuring every child and young person has an equal chance to thrive and flourish and that opportunities are in place for adults to lead positive, safe and successful lives
Prosperous place – promoting and improving the positive qualities of Aberdeen as a place to live in, to work and to visit.
And, of course, prosperity isn't always financial, it's also about wellbeing.  And the flip side of prosperity is harm.  As a council we play a key role as a first responder in cases of emergency in the city as well as our ongoing role in protecting children and adults, investment and infrastructure.
So, in essence, our purpose as a council can be summed up as 'to make sure the people, place and economy of Aberdeen prosper and to protect the people, place and economy from harm'.
Our future direction and priorities are set out in the Council Delivery Plan which covers what we, as a council, will deliver to meet the outcomes in the LOIP.  Both the LOIP and the Council Delivery Plan include specific actions and targets within set timescales to achieve these outcomes.
Given that delivering better outcomes for the people of Aberdeen is our core business we need to ensure that the way the organisation is set up supports this. 
In 2017 we introduced the Target Operating Model.  The design principles behind this model ensure we're structured to deliver our outcomes.  These principles include:
Designing our services round customer needs; encouraging self-sufficiency and self-help; increasing the number of online services; managing demand proactively through early intervention and prevention
Designing the organisation to a work as a whole system rather than in separate Directorates; involving customers and communities in decisions; acting as an enabler rather than a doer
Ensuring our governance and decision-making are aligned with LOIP outcomes and provide clear accountability for performance and delivery; basing decisions on data and evidence
Developing a flexible workforce which has the skills and knowledge to move more freely round the organisation; where managers provide clear direction and support yet allow the freedom to innovate and to make a difference; where leadership is devolved and coaching is the norm
Streamlining and consolidating processes to remove duplication and provide consistency
Increasing the use of technology to transform the way we deliver our services
Collaborating with partners and alliances, including communities and across the public, private and third sectors, to deliver outcomes.
This model will be fully in place by 2021.
What does it mean for me
Every one of us has a responsibility for delivering the best outcomes for the people of Aberdeen. That is what we are employed to do.  Outcomes are simply the end result of our actions.  It's important that all of us are able to see how our actions produce a good end result for our city – whether that's in helping Aberdeen to prosper or protecting it from harm. 
If you're in a front facing role you should be able to see directly how your actions contribute to our economy, our people or the place of Aberdeen.   For example, through the work we do in schools and social work; bringing events to the city; keeping our streets clean and making our parks and gardens a pleasure for visitors.  For those in supporting roles it may be more about how you provide the financial, administrative or people support which allows others to directly deliver our outcomes.
Want to learn more about the Council's purpose and direction?
Take a look at these online resources:
Explore face to face courses:
What do we mean by demand?
Demand is the result of people turning to the council to fulfil a need. That need could vary from very simple – such as the need to report a fault or pay a council tax bill – to long term complex needs such as dealing with homelessness or taking a child into care.
Why are we looking at our demand?
Dealing with demand costs time and money. It uses up resources. These resources are reducing at the same time as the pressures on the council are rising owing to factors such more people accessing public services due to people living longer. So, we need to think carefully about how we manage the demand on our services to make sure we're focusing our resources where they're really needed. While much of our demand is valid and necessary, we've identified 5 types of demand which are not: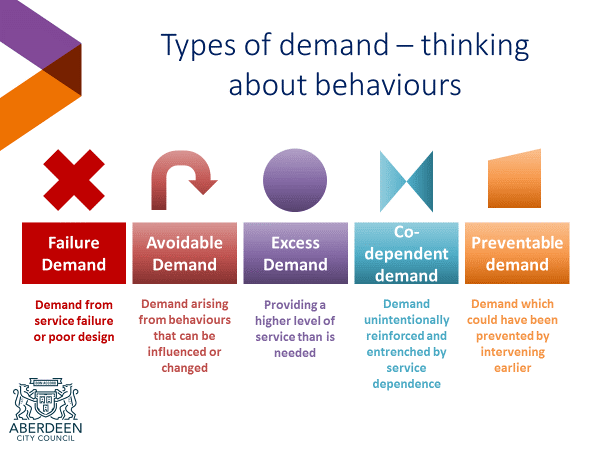 As a council we're taking a deliberate and systematic approach to understand our demand and analyse what we spend – looking specifically at where we face the most pressure from demand. As part of planning for 2020/21 and beyond, we're undertaking a council-wide analysis of demand – including how much we spend across all services, what demand drives that spend and how this could be reduced, removed or managed better.
What's my role in this?
We need the whole organisation to think about demand management and how we can remove negative demand from the system. You know your own service and what creates demand for you, so think about how the following might apply in your own area:
Want to learn more managing demand?
Take a look at these:
Why is this important
?
As a council, we exist to serve the public and this is set out in our purpose – 'to make sure the people, place and economy of Aberdeen prosper and to protect the people, place and economy from harm'.  
In our personal life, if we don't like the service we receive or have a bad experience, we typically go somewhere else or don't go back (let's not mention how many people we might tell about that bad experience).  Our customers don't have the choice to go anywhere else for the services they receive.  So, it's up to all of us to ensure customers get the best experience whenever and wherever they interact with us. 
What
does
a customer centric approach
mean in the council
?
A customer-centric approach means putting customers at the heart of everything we do, making sure we create a positive customer experience and engaging with and involving our customers in decisions which affect them.   
Collaboration and co-design with customers is not only good practice, under the Community Empowerment Scotland Act, we have a statutory duty to do this. 
This means redesigning our approach to customer engagement to meet customer needs.  In future we need to focus on resolving issues early and problem solving to help customers become more self-sufficient and resilient.  That depends on us really understanding our customer needs and their root causes so that we can better understand and manage demand.   
As part of our transformation journey we have restructured ourselves to centre round the customer with a core Customer function which brings customer activity across the council together.  
The We C.A.R.E charter sets out our customer service standards and commitments to our customer that we should all be striving to deliver, these are: 
We will support and encourage you to use our online services

 

We will connect you with other services and groups across the city who can also help you and offer the best support

 
We will make sure our communication with you is easy to understand and recognise that sometimes people need information in different ways

 

We will always be approachable, empathise and keen to listen and understand your needs

 
We will be open and honest with you about what we can and can't do, and the reasons for this

 

We will aim to deliver the best services possible and support our most vulnerable customers

 
We will involve you in helping us to design and test the ways we deliver our services

 

We will listen and act upon your feedback, whether it's a complain, comment or compliment.

 
As well as delivering the best services we can to the people of Aberdeen, we ultimately want to empower individuals and communities to be self-supporting and less reliant on old ways of being helped. To do this meaningfully and ethically in the spirit of the Community Empowerment (Scotland) Act, all services need to mindfully and deliberately think about how our customers can be involved in creating improvements with us.  
Many of us already ask for feedback on how well we're doing; invite comments on consultation and host engagement sessions to seek customer views. The real challenge for all of us is to move existing involvement to the next level, until we're finally co-creating as partners wherever possible. This is when we act together to discover, design and produce the best solutions. 
As a council there are many examples of us doing this, using practical tools such as Quality Improvement; Design Thinking; System Thinking and Behavioural Nudging techniques.   
What does it mean for me? 
In your day to day work, your customers are the people you deliver your service to – whether that's internal colleagues or members of the public.  If you extend this thinking outwards and look at the  organisation's perspective, our customers are the people and place of Aberdeen, which includes local business, tourists and visitors to the city – the range of services we deliver are complex and far reaching and we touch the lives of everyone who lives in, travel through and visits Aberdeen every day. 
Being customer-centric as an individual means all of us taking personal responsibility for treating customers with empathy, asking the right questions and really listening to our customers so that we understand their needs; helping customers to self-serve where they can, sign-posting them to where they can get help and support and also taking time to work sensitively and with care for those who most need our help
Want to learn more taking a customer centric approach ?
Take a look at these useful online resources:
Face to face training:
This supports the organisational capabilities:
Focusing on outcomes that make a difference

Managing demand through early intervention and prevention
(Visited 679 times, 1 visits today)