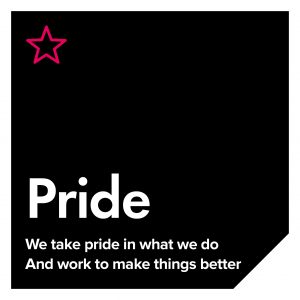 We take pride in what we do and work to make things better
To do this effectively each of us needs to:
Play an active part in transformation, change and improvement – being comfortable with change and focusing on improvement

Play our part in digital transformation by being comfortable with technology, looking for ways technology can help us deliver better services and acting on sound evidence and information

Adopt a commissioning approach by taking responsibility for making sure public money is spent wisely on what is going to deliver the best outcomes for Aberdeen
Find out a bit more about each of these below or click on the link to remind yourself of the skills, knowledge and behaviours needed in this section
Why is this important?
Most people who come to work in the public sector do so because they want to make a difference. This is recognised in our Guiding Principle 'We take pride in what we do and work to make things better'.   
As an organisation we also have a duty to improve as part of the Local Government Scotland Act 2003.  In order to meet this responsibility alongside the challenges we face in terms of rising customer expectations, decreasing budgets and rapid increase in the use of technology, the council has embarked on an ambitious transformation programme.  
What does transformation, change and improvement mean
in the council?
Our transformation programme began in August 2017 when Building a Council for the Future was approved.  You can read more about this journey here. We're now in phase 3 of a 4 phase journey which consists of a number of programmes and projects designed to deliver real change in the way we do our business.  We are also involved in redesigning our services as we move towards the council's final structure in 2021. As we transform internally we are also transforming the city through the improvement outcomes set out in the Local Outcome Improvement Plan (LOIP).   
What does it mean for me ?
This affects all of us in two ways – while we're reacting to the bigger changes which are happening around us in the organisation we are also responsible for making smaller changes and improvements in our own area of work.   
Some of us might find the scale of change that is taking place unsettling.  So it's important that we're all equipped to feel comfortable with what's happening.  The change kit is a useful resource for people to both help themselves in times of change and also to make them better able to support other people through change.   
At the same time, we all have a responsibility for making improvements which are in our own area of responsibility.  Some of us might also be part of bigger improvement projects.  If so, it would be useful to learn the model for improvement which is being used for change projects across the council and in the LOIP.  
If you're a manager, you have a responsibility to help people feel comfortable with change and able to raise any concerns they might have with you.  You also need to be confident in planning and leading change and in encouraging people to experiment, test and learn without fear of blame or failure.   
Want to learn more about Transformation, change and improvement? 
Why is 
this important ?
The speed at which technology and processing power is evolving and the amount of data that's now available to us makes it possible for us to work more efficiently and provide customers with a better experience by the way we receive, process, record and share data. 
The fact that we're now able to combine historic and real time data and share it across different services will have a real impact on the way the council operates and will allow us to move from being a reactive council to a proactive, high performing one.  Using digital tools and solutions will also mean customers and communities are able to be more self-sufficient and allow us to increase our focus on early intervention and prevention. 
Moving our data to 'the cloud' means we'll be better able to source, share and link data which could transform our approach to decision making as well as changing our relationship with the communities we serve.  Being intelligence led through data means that we will be able to understand and influence patterns of behaviour, forecast demand for services, allocate resources more effectively and better plan for the future.  
But more than this, it means our customers, partners and suppliers will be able to access our services more easily and receive a more consistent level of service – ensuring when customers do contact us, their experience is seamless.  And for our workforce, it increases the opportunity to work more flexibility – from anywhere, at any time, with anyone.
Digital transformation will move us into the 21st century, ensuring that we continue to be relevant in the modern world. 
What 
is
digital transformation ?
It's clear from the Target Operating Model that Digital will play an important role in how we shape our services moving forward. But what does this mean?  
Digitilisation isn't just about developing digital services. It's also about introducing digital tools that transform and enhance services across the board in order to change the way we deliver services and manage resources. There are 3 levels of Digital maturity and our mission is to use existing and emerging technology to support the redesign of what we do and how we do it. 
Digitisation

 – this is about moving traditional,

 paper-based, transactional stuff 

online

.  

 
For our external customers, this started with the Digital First project which saw many of our paper based application forms transformed to online forms – providing our customers with instant access to apply for, report and pay for what they need at a time that's convenient for them. 
Digitalisation

 

–

 

this is about joining up 

and streamlining the

 front

line with the 

back-office processes – keeping things automated and digital as far as possible.

 
We became the first Council in Scotland to introduce end to end online school admissions, and the registrar service also transformed the way they work, by moving appointments to online booking, rather than a drop-in service.  Customers can now make an appointment when convenient for them and are seen as soon as they arrive – a much better customer experience, particularly for those who've experienced a loss. 
Digital Transformation

–

this is about using data from across the council and other agencies to proactively, pre-empt customer needs and demand – telling them what they need before they know they need it
The next phase of our digital transformation will be exploring opportunities for Artificial Intelligence and Office 365 to better meet the needs of customers and staff.  
What does it mean for me?
With Office 365 comes powerful applications such as SharePoint and Teams Sites which give all of us the ability and opportunity to share documents and work more collaboratively with colleagues across the council and beyond.  This means that how we store and share information digitally will also change. 
While it might sound like online, cloud based working means we can save/store as much data as we want – the reality is that we all still need to be mindful of what we save and where we save it because as an organisation, our storage space is finite and we pay for what we use. 
We will no longer need to share documents over email, resulting in multiple copies and versions of the same document floating around and being saved in various places. Saving something once to Teams Sites on Office365 means you can readily and easily access and share the document with those that need to see it for collaboration, comment or simply for information. 
Whilst enjoying all the new features we will have at our disposal; it does come with a bit of a warning attached. The ease of sharing data means we all need to be really mindful of GDPR (General Data Protection Regulations) when sharing documents for collaboration; to ensure personal and sensitive information is protected and that information is only stored and retained for the legal length of time permitted. The consequences of a data breach can mean a large fine for the organisation or even legal action for the individual who caused the breach. You can find out more about this and how you can ensure you're complying with the law by completing the GDPR and Information Governance courses on OIL  
Be aware of phishing emails and phone calls; just as you would in your personal life. If you're familiar with online banking, the rules are the same – there is never a need for anyone to know your password, so don't give it out.  The same is true for allowing colleagues to access your device in your absence.  
Want to learn more about Digital Transformation?
Take a look at these:
Why is this important ?
The council is publicly funded.  Basically, we are spending taxpayers' money.  As such we have a moral and legal obligation to make sure we're spending that money wisely and to get value for money.  This legal obligation is set out in the Local Government Scotland Act 2003 where councils are charged with always seeking 'best value'. 
The responsibility for spending money wisely is particularly important when we are facing the scale of decrease in public funding we have experienced in recent years.  The traditional approach to such challenges would have been to look at what we currently deliver and try to find ways to deliver this more efficiently or at lower cost.  However, inevitably a point is reached where there is no more fat to trim, no more low hanging fruit, and trying to continue to deliver the services we currently deliver in the way we currently deliver them simply becomes unsustainable.    
This has led to us looking at an entirely new commissioning approach.  
What is commissioning

 ?
 Commissioning is really about 4 things: 
1) Assessing and forecasting needs  
Basically, what this means is that instead of starting from the point of what we currently deliver we start from what we actually need to deliver. 
This is based on two things. Firstly, what we are required by law to deliver – our statutory obligations, such as education for 5-16-year olds and social work services.   Secondly, what will give us the best outcomes for the people of Aberdeen within the resources we have available.   
The commissioning cycle starts with analysis – so in order to best analyse what our communities need  the council carried out a Population Needs Assessment in 2018 in order to predict the demands that we will face in the future and to ensure that we are focusing on what our communities need.  The Population Needs Assessment was then used to refresh the improvement outcomes in our Local Outcome Improvement Plan. 
2) Linking resources to outcomes 
The next step involves analysing the gap between what is needed and the resource we have available to meet those needs – whether our own internal resource or the shared resource we have across the city with our partners.  
3) Considering options  
Once we've identified the services we intend to deliver, based on what is going to result in best outcomes for the people of Aberdeen, these become our 'commissioning intentions'. The next decision then becomes how we will deliver these services and who will be best placed to deliver them, whether they will be delivered internally by our Operations function, with partners or by the 3rd sector.   
4) Planning the nature, range and quality of future service 
We then need to identify how we will be sure that what we need is what is actually delivered.  This involves producing clear specifications spelling out the outcomes we are looking for and setting out how we will hold the provider accountable for delivery through the way we manage the contract and the supplier-customer relationship.  And finally, we need to consider how we will manage the demand for the services that we are no longer going to deliver.   
You can read more about our approach to strategic commissioning in the committee report.   
What's 
does 
it
mean for me
?
Although commissioning may sound like something quite high level which most of us will never get involved at its most basic – the need to spend public money wisely – it is everyone's responsibility.  All of us should be challenging where we see money is being mis-spent or could be spent better and taking responsibility for treating money and resources with respect.  And if, in our roles, we have responsibility for purchasing items or services on the council's behalf then we need to make sure we understand and are complying with the procurement regulations in relation to raising purchase orders, procurement limits etc.   
Want to learn more about adopting a commissioning approach?
Have a look at these:
This supports the organisational capabilities: 
Focusing on outcomes that make a difference

Managing demand through early intervention and prevention

Being flexible and adaptable

Becoming intelligence-led
(Visited 268 times, 1 visits today)