Online Learning Resources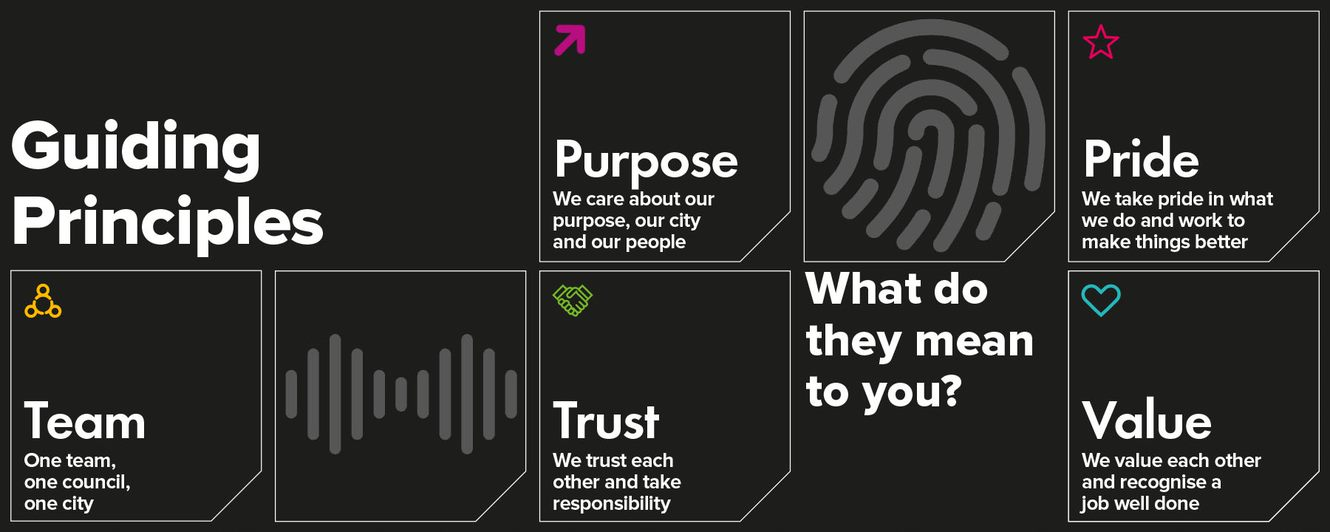 Developing the Guiding Principles
Now that many of us are working from home this may be an ideal opportunity to undertake some home learning.
How about focusing on the Guiding Principles and work on any gaps identified in your recent CR&D?
What are the Guiding Principles?
They are five broad statements, created by us – the people of Aberdeen City Council – and for us, to guide the way we work, the way we behave with one another and make sure we all have the same understanding of how we want to be treated at work.
They are universal and can be applied in any context. If you think about other organisations out there who are doing well, or even those you'd like to work for, chances are they're about the same thing – it's common sense really – but clearly something that folk think is missing in their current work context.
None of the Guiding Principles exist in isolation. They balance off each other. Sometimes you turn the dial up on one and turn it down in others. They work in unison because every situation is unique.
Caring about our purpose is central. Ultimately we're here to serve the city, and we need to exist to do that. We need a balanced budget to exist. So within the confines that we have, the aim of these Guiding Principles is to give each other the best chance of being ok. This is about setting the conditions for you to flourish.
Guiding Principles – What do they mean to you?
If you've identified any gaps in your knowledge and skills after completing your CR&D or just want to find out more or develop a specific area then please click on the icons below. These icons will link you to the Learning Academy where you can find out more about each area of the Guiding Principles and specific development linked to that area.  
ACC Learn – Aberdeen City Council's  New Interactive Learning Platfrom (Replaces OIL)
Or maybe  you could use this time to complete some  mandatory courses or other areas of development?
Mandatory courses for staff include:
Information Governance
Introduction to the Bribery Act
Adult Support and Protection
Protecting Children (GIRFEC)
Equality and Diversity
Freedom of Information Scotland Act 2002
Introduction to Health and Safety
Our online portal is designed to give you the flexibility to access on-going development wherever you are and at your own pace.
ACC Learn can be accessed here
If you are having problems getting into ACC Learn or a course isn't working, get in touch with  by email at: peopledevelopment@aberdeencity.gov.uk
The Learning Academy is available to support you to continuously develop yourself at work. What you'll find on the Learning Academy 
A range of learning resources to support the skills and knowledge we all need  
Profession-specific training 
Links to free online learning 
Learning shared by colleagues
ACC online courses where staff have the opportunity to complete essential mandatory courses as well as other areas of development  
This e series was introduced as a response to the recent events of a pandemic which has resulted in a significant number of the workforce work remotely. Whilst this is already a habit for some individuals, for others, this is a new venture into the virtual workplace. The series aims to go beyond providing you with helpful working from home tips to really exploring what this new virtual workplace looks like and how you can broaden your existing skillset to thrive in a virtual environment. 
A suite of online mental health and wellbeing learning, webinars and online exercises
For all your information, news, tips and training to improve your personal and team productivity using Office365.
Is Coronavirus affecting your education or work? Explore online courses to continue studying, build professional skills, and connect with experts.
Alison has over 1000 high quality courses available, all absolutely free to complete. All of our certified courses are self-paced and have been designed by subject matter experts to give you an interactive and enjoyable learning experience. To get started, just choose a Subject Area below to locate the perfect course for your needs. Your next learning journey is just minutes away!
edX is a massive open online course (MOOC) provider with access to university-level courses
Helping you to learn the essential management, leadership, and personal effectiveness skills that you need to build a happy and successful career  
A portfolio of free short courses is being launched by RGU to support the skills needs of individuals and workforces across Scotland as they deal with the economic challenges of COVID-19.
The university is offering 400 fully-funded places across a range of online short courses focused on strengthening businesses and providing individuals with skills development opportunities in response to the current climate.
Starting this month, RGU is initially offering three courses in Strategic Leadership, Resilience and Change Management and Strategic Digital Marketing, with plans to expand the portfolio. The courses are relevant for any sector.
Scotland Excel now offer a range of FREE online interactive 1 hour programs, to meet your particular needs and help you on your lifelong learning journey.
Health and Social Care Resources
SWAY – Learning resources for Education staff
Cala (Range of childcare courses) 
Education Scotland –Website to support teachers and early years practitioners in Scotland with their professional learning.
Holiday Activities and Family Learning– activities and learning resources to keep everyone busy during the Easter Holiday.  
Turas– NHS Education for Scotland's (NES) new single unified digital platform for health and social care professionals. From here you can access all your NES applications with a single secure sign on. The aim is to provide you with the information and resources you need to support you throughout your career in the public sector.  This is also available if you are in public sector work.  Get in touch with the Turas team if you wish to have access. 
Connect– The New Partnership Intranet for AHSCP 
Whatever your role and level of experience, we have apps and resources to help you develop your knowledge and skills. These are completely free and you can work through them at your own pace. 
Bon Accord Care has launched an online learning resource which aims to provide all social care staff with access to learning resources with the necessary information that will allow them to effectively carry out their roles.
(Visited 954 times, 1 visits today)