In response to the current Coronavirus pandemic crisis and Government guidance, our employees may find themselves working from home and it is difficult to determine how long homeworking may be necessary.
The Health and Safety Executive are advising that there is no increased risk from DSE work for those working at home temporarily during this period. That said, we will all be making adjustments to ensure that we are comfortable and able to work productively from home.  These pages provide some additional pointers.
Setting up your workstation
In order to achieve a good working posture there are a series of steps which you can take: 
Sit at a table rather than on the sofa or in bed where possible.
Raise the laptop screen to eye level, using a laptop raiser, boxes or similar if required. 
Attach a separate keyboard and mouse where possible 
Adopt a good sitting position in order to avoid straining wrists, arms, neck or back 
Sit directly in front of your screen (i.e. avoid twisting positions) 
Avoid glare and reflected light 
Practical solutions suggested by the Health and Safety Executive include:-
Supporting cushions for lumbar support
A small box as a footrest
An ironing board or kitchen counter as a standing desk
Books or boxes as a monitor raiser
See the CIEHF's Infographic on workstation set up or watch the video above for more assistance in setting up a good workstation and environment.
If you have any immediate concerns regarding the health and safety of working from your home, please advise your manager who will work through options with you.
Managers can use the Homeworker Issues checklist to ensure staff are working safely.
Request for office space/equipment on the grounds of Health and Safety
Consider only if you have employees who are struggling with their physical or mental well-being while working from home and you feel this could only be improved by returning to the office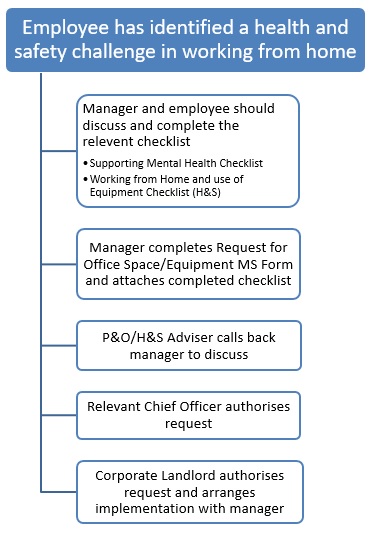 Income Tax Relief and Insurance
You may be able to claim tax relief for some of the bills you have to pay because you have to work at home on a regular basis. You cannot claim tax relief if you choose to work from home.
This can be done through an online P87 form through your Government Gateway account or by filling out a postal P87 form.

You'll be asked for your employer's name and PAYE reference (which you can find on your payslip or P60), and your job title. For postal P87s, you'll also need your national insurance number. The key section for filling in is titled 'Using your home as an office'. Assuming you're not eligible for tax relief on other work-related expenses, like uniform tax rebates, leave them blank.
In the online form, there are two boxes:
'Amount paid by you'. HMRC has stated that provided you've had increased costs, just put a total amount that's equivalent to £6/wk for the period you've been working from home and that's fine, you won't need to show receipts.
'Amount paid to you by your employer'. The Council do not normally pay a working from home allowance or reimburse homeworking expenses, so if this is the case, just put £0.
If you're claiming through the postal form, you'll need to add a 'Using your home as an office' expense manually in the 'Other expenses' section.
You claim retrospectively on expenses incurred. So, if you're only at home due to coronavirus, it's best to wait until you're back at work (or a few months anyway) then make the whole claim at once. Your tax code will likely be adjusted so you pay less tax over the year, as opposed to you getting a direct refund.
Other People Anytime Pages
(Visited 2,867 times, 1 visits today)