Last updated 10 August 2020​

The Protect Scotland app from NHS Scotland's Test and Protect is a free, mobile phone app designed to help us protect each other, reduce the spread of coronavirus and avoid further lockdowns.
You can find out more information and download the app from www.protect.scot or use the buttons opposite.
The process chart opposite will help you determine what action to take if you think you may have come into contact with coronavirus.
Test and Protect - What You Need To Know
Test and Protect is Scotland's approach to implementing the test, trace, isolate, support strategy, it is a public health measure designed to break chains of transmission of COVID-19 in the community. Full details can be found here.
The NHS will test people who have symptoms, trace people who may have become infected by spending time in close contact with someone who tests positive, and then support those close contacts to self-isolate.  That means if they have the virus they are less likely to pass it on to others.  
Please follow the Health Protection Scotland guidance  if an employee becomes unwell with coronavirus symptoms at work.  The person should leave work to self‑isolate straight away and, if possible, wear a face covering on route and avoid public transport. 
Anyone with symptoms must now request a test and those who tests positive for COVID19 NHS contact tracers will interview them and get in touch with people they have been in close contact with, to tell them they must self-isolate for 14 days. Test & Protect is now available for all Aberdeen City Council Employees and not just those deemed as critical workers.
If any ACC employee is informed by a contact tracer that they should isolate, management should assist them to do so straight away.  They may feel well, as the virus could still be incubating when they are asked to isolate. Some people who are asked to isolate may not become unwell, but they must stay at home and self-isolate for the full 14 days.  You can ask them to work from home if they are able to and they are not unwell.
Please remember anyone who has symptoms or a member of the same household, must request a test, please complete this online form. 
Please note NHS contact tracers may require someone to self-isolate more than once and even if they have previously tested positive for coronavirus and have recovered.
Further information on self-isolation can be found on our Self-isolation pages.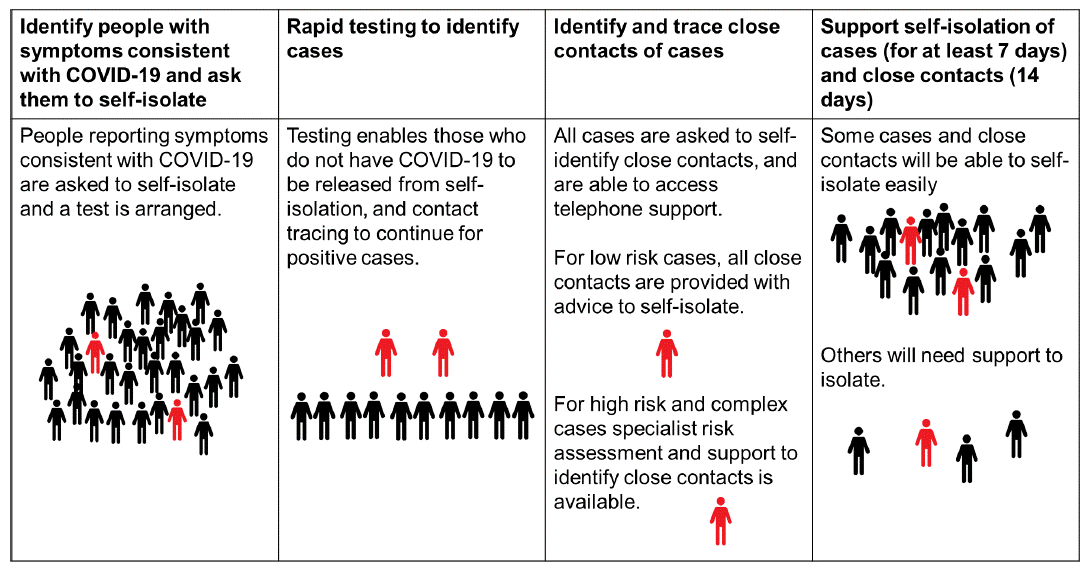 The primary purpose for workforce COVID-19 testing is to allow workers to return to work as soon as they are able by identifying those with no COVID-19 symptoms, or who have recovered from a period of illness. 
A secondary purpose is to confirm COVID-19 infection in council workers allowing us to monitor infection rates. 
If a worker has

a high temperature or fever, a new continuous cough or a 

loss or changed sense of smell or taste,

and has to self-isolate for 10 days then they can request to be tested. A negative test result will allow them to return to work once they are well enough even if that is before 10 days.  If they feel well enough after 10 days, and have not had a high temperature for 48 hours (without taking any medicines to treat a high temperature) they can return to work. It is not unusual for people to feel unwell for longer than 10 days even in milder cases.
If a worker is in household isolation for 14 days because they live with someone who has

a high temperature or fever, a new continuous cough or a 

loss or changed sense of smell or taste

, then they can request a test be offered to their household member(s) with symptoms. A negative test result will mean the 14-day household isolation period is lifted immediately and the staff member can return to work.

As an alternative to Aberdeen City Council's testing process, a self-referral for a COVID-19 test can be done:
We have been advised that NHS Grampian are no longer accepting COVID-19 test requests for staff in schools and local authority early learning childcare settings (including school age childcare).  More informatin on how to request a test can be found

here.
You or a member of your household, must have Covid-19 symptoms before you will be tested.
How to request a test (does not apply to staff within a school or ELC setting):
Worker to complete and submit this form
P&O will send application to NHSG for testing
NHSG will call employee with appointment details
Worker informed of results
Worker informs result to line manager and eghg@aberdeencity.gov.uk
(Visited 4,558 times, 1 visits today)